APRIL 7, 2003
Why did Fernando Alonso crash?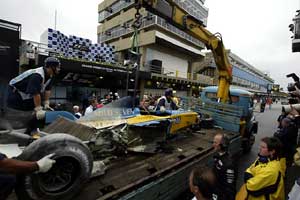 There were a number off mysteries associated with Fernando Alonso's massive accident at Interlagos. Alonso, who had already been penalized for ignoring yellow flags, was still going at maximum speed despite the fact that Mark Webber's accident happened more than a minute before he arrived on the scene. When Webber crashed Alonso was ahead of him on the road by around 14 seconds. This meant that there was around 75 seconds in which the Renault team could have communicated to Alonso that there had been a major accident at the final corner and that he should take care. Many of the other drivers reported that their teams had let them know what was happening.

A professional team like Renault would normally do something like this as a matter of course and so one must assume that the action was taken and either not heard or ignored by Alonso.

It is worth noting that after the race Jacques Villeneuve, normally the wildest of the wild, said that some of his rivals were driving like idiots.

"There wasn't that much water really," he said. "It is down to the drivers to be less crazy in those conditions and there was some crazy driving out there. Some drivers were overtaking under the yellow flags, halfway through the race I saw Alonso overtake under the flags. I think that is the kind of driving that leads to big accidents."