APRIL 7, 2003
Could Fisichella really have gone without stopping?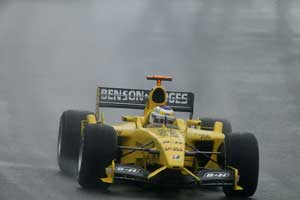 Although Jordan Grand Prix came away from the Brazilian Grand Prix as "moral victors" and some media attacked the rules for allowing what looked like a victory to be taken away from the struggling Silverstone team, there are still serious doubts as to whether Fisichella would have made it to the finish.

The reality is that probably no-one will ever know. Not even the team. The Jordan strategy was based on a risk in the early laps as the cars toured around behind the Safety Car. Fisichella dived into the pits, took a tankful of fuel and set off to drive to the finish. In theory this was be 71 laps but the team was gambling that there would be enough Safety Car interventions to save fuel and get the car to the finish after two hours, when a race automatically terminates. The race ended 18 laps short with the red flag after Fernando Alonso's accident.

What we do not know was how much fuel was left in Fisichella's car at the end of the race and even if this was public information there is no indication as to how many laps the race would have lasted. At the speed the cars were going when the race ended it could have gone full distance although with the drying track the tyres would have started to overheat (as happened to Mark Webber). Sauber, which was trying to do the same thing, admitted after the race that its strategy needed one more Safety Car and that if the red flag had not been shown Frentzen would have been on course for victory.

Fisichella himself admitted that he did not know if he was going to make it or not.

But it made for a good story and will no doubt help Eddie Jordan as he strives to find more cash to run the team.

The general consensus was that if the race had gone to full term David Coulthard would have led home Kimi Raikkonen and Mark Webber.