APRIL 5, 2003
Stoddart optimistic on Minardi budget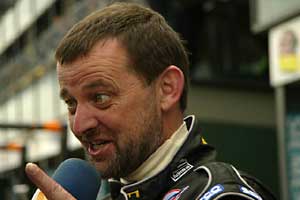 Minardi boss Paul Stoddart says that he is confident that the team is now close to having enough money to make it through the Formula 1 season. Stoddart says that he hopes the remaining money needed can come from a fighting fund set up by the teams to help the small teams survive. The team bosses met on Friday afternoon in Brazil but we hear that, as usual, nothing was decided.

One potential threat has however been removed with the team having been cleared in a long-running tax investigation by Italian authorities which might potentially have cost $6.5m. The problem has been dogging the team since 1992 and has not been addressed by the various owners of Minardi during that period. Stoddart was aware of some of the potential problems when he bought the team a couple of years ago but admits that he was not aware of all of them.

"This news means that Minardi has a clean slate for any investors wanting to come into Formula 1," he said.

Stoddart says that he has now sorted out problems with the Gazprom sponsorship but also admitted that he did not follow up on Malaysian government money after receiving a number of death threats after the team ran with "Malaysia for peace" stickers on the cars in Sepang.