MARCH 26, 2003
Don't worry about Barrichello...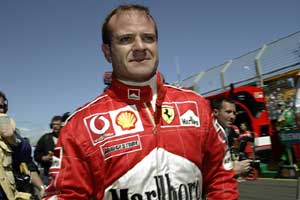 Rubens Barrichello does not like the HANS device although he accepts that it is a step forward in safety. The problem he has had is that he has yet to find a set-up which he finds comfortable. However he is going to need to do that quickly because the FIA has made it very clear that there will be no more dispensations for drivers, claiming that it hurts them. In other words Ferrari needs to find an arrangement which is comfortable for Rubens or he will have to be stood down for his home race.

It is thought unlikely that Rubens will be keen to miss the Brazilian Grand Prix.

"I would expect we will be able to solve the problem," a Ferrari spokesman said. "We are testing a new system and for the time being we are not speculating on having any more difficulties with it. If any driver is not comfortable then we would use our second driver."

The HANS device was invented by Dr. Robert Hubbard, a biomechanical engineering professor at Michigan State University. In the 1970s, Hubbard worked at the General Motors Research Laboratories on development of crash test dummies and when his brother-in-law sportscar racer Jim Downing talked to him about his belief that many of racing's debilitating or fatal head and neck injuries could be prevented, Hubbard began work on HANS. The objective was to reduce the chance of serious injury caused by the violent movement of the unrestrained head and helmet combination in an accident.

In a high-G accident (in the region of 80G), a 15lb head and helmet combination effectively weighs 1200lb for a split second. Crash recorders in Indycars have recorded many accidents over 100G and the driver's neck has to take this load. The generally accepted average threshold for injury is about 740lb and that can be registered during a head-on accident at speeds as low as 60mph.

Hubbard developed and tested prototype HANS systems in 1989, testing the first systems with crash injury biomechanics experts at Wayne State University in Detroit. Downing wore the HANS device in practical tests. The first HANS device went on sale in 1990 and since then General Motors, Ford, and Mercedes-Benz have all conducted their own experimentation and have recognised the effectiveness of the device in reducing driver injuries. In 2000 a compact versions of HANS was developed for use in CART, IRL, F1, NASCAR and other forms of racing and there are now several thousand HANS devices being used on a regular basis. The HANS device is now mandatory in CART and Formula Atlantic and NASCAR has a similar mandatory head and neck restraint system.