MARCH 24, 2003
Funding a Grand Prix without government money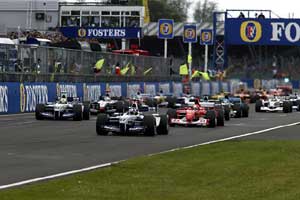 With the huge new deals which have been concluded by Formula 1 boss Bernie Ecclestone with the promoters of the Chinese and Bahrain Grand Prix, some of the European races are beginning to feel the winds of change and are looking at how they can possibly afford to compete against organisers which are willing to pay as much as $40m a year for the right to hold a race.

European races pay considerably less but even then the organisers struggle to break even because they have no rights to exploit trackside signage, VIP hospitality and other such activities. The result is that races without government backing are now struggling to survive.

The only way forward is to increase the number of spectators coming to races and in order to do that large sums of money need to be invested in infrastructure to enable the huge crowds to come and go without drama. Much depends of the location of the circuits but tracks like Silverstone, Hockenheim and Magny-Cours have had to look at access roads. The model that most of the European events have been studying are race tracks in America which have been incredibly successful.

In recent days the Bristol Motor Speedway in Tennessee has unveiled a $30m expansion which pushes the crowd capacity of the half-mile oval to 160,000 seats. The track hosts two rounds of the NASCAR Winston Cup each year and these are consistently sold out months in advance. Bristol is now the circuit with the third biggest crowd capacity in the United States, after Indianapolis Motor Speedway's 250,000 and Lowe's Motor Speedway at Charlotte which has 167,000 seats. In order to push up revenues the new Bristol grandstands feature 52 VIP suites and 22 merchandising stands.

Six years ago, when Bristol was acquired by Speedway Motorsports Inc. for $26m the facility had only 71,000 seats.

The problem that exists in some countries is that the construction of new grandstands means that the taxable value of the facility increases and so construction does not make sense. In Britain the BRDC has tried lobbying to get government funding for Silverstone but has not got very far. Appealing for tax breaks for grandstands might be a way forward now that Silverstone has better access roads although there are still worries about the Silverstone facility because of Octagon Motorsports's announced intention to get out of motor racing. The BRDC, which owns Silverstone, says that it has "absolute undertakings" of Octagon's intention to honour the agreement and added that it has received no formal notification that Octagon intends to sell their commercial rights to the British Grand Prix.

The BRDC says it does not have the financial depth to operate an annual Formula 1 contract under the present terms and conditions on offer from Formula One Management.