MARCH 12, 2003
Fisichella puts himself on the market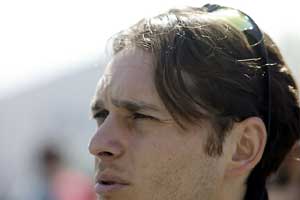 It may seem a little early for the start of the silly season but it actually kicked off a couple of weeks ago with rumours that Ralf Schumacher would be talking to Toyota in the midseason. Now Giancarlo Fisichella says that he going to be on the market at the end of the year. This is a logical thing to do given the lack of performance that has marked his career at Jordan thus far.

Now is the time for those who are likely to be on the move to make sure that everyone knows that they are available. This could be a big year for moves as a number of contracts come up for renewal and this could open the door to a drive with one of the top three teams, which is Fisichella's goal. The interesting thing is that despite his lack of results, Fisichella's reputation appears to remain intact as one of the top talents in the sport.

Fisichella has been muttering of late about a future at Ferrari for some time but it is hard to see Michael Schumacher accepting a driver who might be quick enough to beat him. Michael is very happy with Rubens Barrichello and there is no reason to change unless Barrichello wants to move on.

Fisichella has recently made an important change in his career having done a management deal with Enrico Zanarini, the former manager of Eddie Irvine. Zanarini is a fixer and did great things with Irvine and Fisichella is hoping that some of that magic will rub off on his career, which has been a little stagnant of late.