FEBRUARY 5, 2003
Rehm drives Toyota at Daytona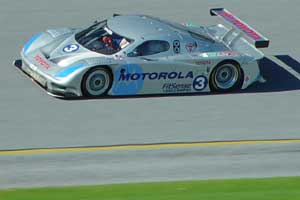 Grandprix.com's 2000 Young Driver of the Year award winner Josh Rehm produced a noteworthy performance at the 24 Hours of Daytona this past weekend, running as high as third place overall before retiring with a ruptured oil line in the OZEXE/Motorola Toyota in the new Daytona Prototype class.
Rehm, who was pleased to get a top ride at the event, said, "I really want to thank Toyota and the team for having the faith put me in the car. It was an honor to represent Toyota and I'm looking forward to helping their program for as long as I can be part of it."
Rehm tested well in Indy Lights and Formula Atlantic, and last year ran a partial season in the Barber Dodge Pro Series scoring several good results. Rehm hopes to continue running in sportscars this season, while also finishing up his University degree at the same time.
Cegwa Sport team boss Darius Grala said, "Josh had classes so he missed practice and got in the car for the first time during the race. It was his first time in a Sports Car and his first time at Daytona, and right-away he was on the pace of guys like Brabham, Theys and Goodyear."
Toyota has been absent from the endurance scene since 1999, and the race marked their return to Sports Car racing in the newly created Daytona Prototype category.