NOVEMBER 14, 2002
Alain Prost - don't hold your breath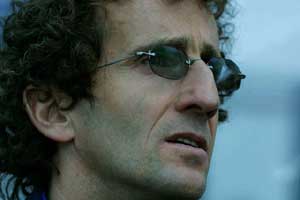 There are a few wild rumours floating around that Alain Prost is about to make a comeback as a front man for a French company in Formula 1. These should not be taken too seriously although it is, of course, possible that Prost may be paid to represent a sponsor. It is highly unlikely that he will be given any management role at Renault Sport as has been suggested. Prost and Renault have not seen eye-to-eye for several years and when his F1 team was going to the wall a year ago Prost felt seriously aggrieved that the firm put all of its support into a British-based team rather than helping him to run a team with a French flavor. At the time Prost said he was "disgusted" with the way Renault and its chief shareholder, the French government, had behaved towards him.
It was not the first time Prost had fallen out with Renault. He was fired as the company's lead F1 driver in 1983 after the World Championship was lost in the final stages to the Brabham-BMW team.
Prost's image in France is not what once it was but he has in recent months been making appearances at business conferences, talking about how to be successful.
Prost was expected to put together a new team to mount an assault on the Le Mans 24 Hours this year but there has been no sign as yet that any deal is in place.