NOVEMBER 11, 2002
A huge blow for Belgium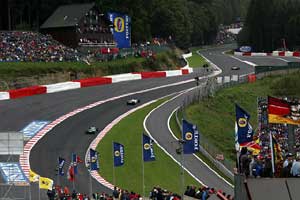 The Belgian motorsports community was just getting used to the fact that it looks certain that the country has lost its Grand Prix for 2003 but now it has now been hit with the sudden death of John Goossens, the man who was leading the efforts to keep the race alive in his role as president of the Royal Automobile Club of Belgium.
Goossens, who died suddenly at the age of only 57, was an important figure in the discussions with the government over the Grand Prix but was also a player on the international motorsport scene, as a member of the FIA World Motor Sport Council. In the summer of 2001 Goossens was involved in a very quiet attempt to mount a challenge to Mosley in the FIA elections but was dissuaded from pushing ahead in the run-up to the election. At the time Goossens was new to the RACB job and was facing the big job of restructuring the club.
He was not new to motor racing however having been a racer himself in the 1960s, notably in the annual Spa 24 Hours. He spent his formative years in the United States where he worked for General Motors after graduating as an MBA from New York's Columbia University. After that he returned to Europe and joined Texaco. He was responsible for the management of the firm's successful sponsorship campaigns in F1 notably with Emerson Fittipaldi (Team Lotus) in 1972 and later added two further titles with McLaren (Fittipaldi in 1974 and James Hunt in 1976) before turning Texaco's attention to African rally raids, supporting Jacky Ickx (Mercedes) and Rene Metge (Porsche) to victory on the Paris-Dakar Rally.
After leaving Texaco he moved on to Alcatel-Bell and supported the career of the young rally driver Gregoire de Mevius and then as head of Belgacom he encouraged motorsport sponsorship. Early in 2001 he was asked to become president of the RACB. Since then he has been the force behind motorsports in Belgium and his loss will be a serious one for the country as it strives to remain a world power in motorsports.