OCTOBER 29, 2002
Belgians bid to save their race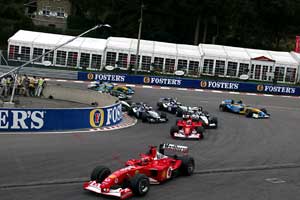 The news that the Belgian Grand Prix has been dumped from the Formula 1 calendar has caused ructions in Belgium. The two Belgian senators who tried to save the race earlier this year by introducing an amendment to the country's new anti-tobacco law say that they are now going to introduce an emergency bill to Belgium's parliament so that the law can be postponed. At the moment it is due to come into force on August 1, 2003, a month before the race was due to take place.
This would be enough to save the race in 2003 and then the two senators and the Royal Automobile Club of Belgium could work together to find a long-term solution to the problem.
Back in July, Monfils, the deputy for Liege for the last 20 years and a senator in recent years, and his colleague Jean-Marie Happert tried to modify the bills as it was passing through the parliament but this bid was rejected. They and other deputies from all parties are now arguing that while most are in favor of the tobacco ban, pushing through the ban at the expense of Belgium's premier sporting event makes no sense, not least because it will cause a major loss of income in the Spa area. It could also affect the future of Spa-Francorchamps as the track will find it hard to survive without the Grand Prix.
"We know," said Jean-Francois Istasse, the socialist deputy from Verviers, "that if Belgium loses the race once we will never get it back again."