OCTOBER 12, 2002
Wilson and Newman Haas Racing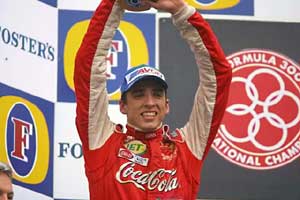 The 2001 Formula 3000 Champion Justin Wilson has struggled to get a break in Formula 1 and it now seems that the tall Englishman will be switching to CART next year. Wilson tested for the new CART champions Newman Haas Racing at the 1.5 mile Homestead Oval in Miami, Florida.
"Jonathan Palmer (the former F1 driver who manages Wilson) had been in regular contact with Newman Haas and we were keen to have the opportunity to test for them," Wilson said. "This chance suddenly came up. It's obviously my goal to be driving in Formula 1 or the CART FedEx Championship in 2003 and I just have to keep testing, keep proving to people I can do the job and see what develops from there."
Newman Haas has yet to name its drivers for next year but the current duo: Christian Fittipaldi and Cristiano de Matta are both expected to move on, Fittipaldi to NASCAR and da Matta to the Toyota F1 team.