OCTOBER 1, 2002
Bye-bye Belgium?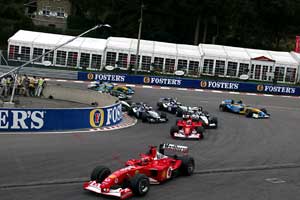 The 2003 Belgian Grand Prix will go ahead as planned next August - if all the Formula 1 teams agree to run without tobacco advertising. And that means that there is very little chance of the race taking place as, based on recent experience, the teams have not been able to agree on very much. The FIA's announcement is a clever piece of buck-passing as it did not want to be seen to be responsible for the demise of the famous race and by giving the responsibility to the teams, the federation is off the hook.
In fact the real villains in the piece are the Belgian politicians who voted through a law which means that tobacco advertising is banned in Belgium three years ahead of a pan-European ban. Other European countries have agreed to allow F1 to go unmolested until 2006 on the understanding that after that all tobacco sponsorship will disappear from motor racing.
The Belgians have consistently proven to be difficult on the subject but on all previous occasions a compromise has been found. on this occasion it is not possible. We understand that the Belgian FIA delegate John Goossens asked for a change of date in 2003 so that he could have the time to get the law ratified for 2004 and 2005. The World Council decided that this was not a good idea and so it was agreed that it would be left to the teams to decide whether or not they are willing to run without their tobacco sponsorship.
This is not an issue with the teams who do not run with cigarette sponsorship although one can imagine a situation in which they might use the opportunity of a vote to demand other concessions from the big teams, which are largely dependent on tobacco funding. The current rumours of legal action against Minardi by other teams trying to recoup the Prost TV money which Minardi was given this summer by the FIA might provide just such an issue. Minardi could, in theory at least, refuse to agree to the race happening unless the big teams agree to leave the little team alone.
There is also no guarantee that the big teams will agree on anything as some may think that Spa offers performance advantages to Ferrari because, traditionally, Spa is a race track where Michael Schumacher goes well. A rival team may very easily decide to vote against the race in order to avoid losing points to Michael.
The move will almost certainly help to highlight the futility of having important issues in the sport decided by the team owners. They have long wanted to have the power to make decisions but have so often been unable to make them because they cannot agree on anything.