SEPTEMBER 26, 2002
Patrick Long among Red Bull finalists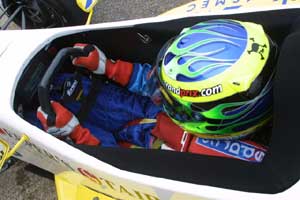 Grandprix.com Young Driver Award winner Patrick Long has been named one of the finalists for the Red Bull F1 Driver Search program, and will now prepare to head to France for a shootout against the fifteen other finalists.
The young Californian has an impressive resume both in the US and in Europe. Long won numerous National Karting titles in the US before going to Europe to compete in the British Formula Ford championship. After a second place finish in the series in 2001, the 21 year-old made the switch to Formula Renault in 2002.
He has a good understanding of what it takes to win in Europe and showed his mettle earlier in the year when he walked away from Manor Motorsport because he felt that he was being mistreated.
A switch to Richard Dutton's Fortec team proved to be what Long needed, as he scored his first win of the series at Snetterton in early August and finished the year with another podium finish at Donington Park.
The next obvious step for Long is to F3.