AUGUST 11, 2002
Schumacher signs for Modena - but won't play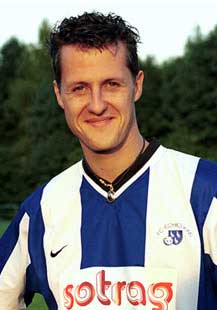 Michael Schumacher likes soccer. For some time now he has played for FC Echichens, a small-time soccer team in Switzerland, close to where Michael is resident (for tax purposes). The problem was that Michael did not spend much time in Switzerland, because of all the testing and development work and so this year Schumacher has decided to move to the Modena Football Club in Italy.
Modena plays at a much higher level than FC Echichens but it seems that Schumacher is unlikely to play much at the Alberto Braglia Stadium in Modena, except in the occasional friendly game. Schumacher, who likes to play football to keep fit, cannot afford to hurt himself and so will not be playing in the league games.
For Modena, a club which has been in business since 1912, the signing of Schumacher is a nice public relations coup. The team has just been promoted from Italian Division B into Division A, having jumped from Division C last year.