AUGUST 9, 2002
The Grand Prix of Moscow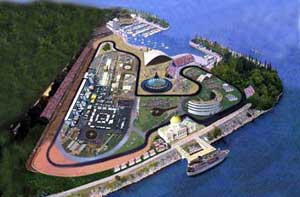 It may never happen but the plans for the Grand Prix of Moscow, which was scheduled to be held on a specially-built circuit on Nagatino Island, in the Nagatinskaya river valley, in south-eastern Moscow have finally come to light. The track was to have been built on a track on the banks of the Moskva river.
The aim is for the complex to host not only Formula 1 races but also other major events and the design of the circuit indicates that there was a plan for a one-mile flat oval in addition to the 2.5-mile road circuit. The plans also reveal that the track would have been able to have been divided into two parts.
The plans called for an automobile, technical, entertainment and business center plus shops, cafes, restaurants and entertainment areas. In addition the aim was for a technology park to be built close to the track.
The project needed $169m of funding but the Moscow City Government was not going to be involved. The figures mentioned did not include the investment needed for the construction of the marina, hotels, casinos and other installations. The cost of the entire project was estimated at $1bn.