JULY 31, 2002
The future of Tom Walkinshaw in F1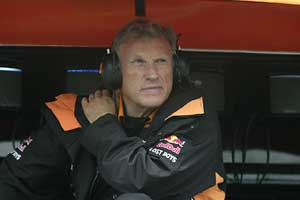 People will tell you that Tom Walkinshaw is going to leave Formula 1 once the sale of the Arrows team has been completed - but this is by no means certain. Walkinshaw remains an ambitious character and despite the problems at Arrows which have cast him in a less than favorable light he may still be hoping to find a new way forward. If the Red Bull Team USA comes off Walkinshaw will probably run it.
Tom is a very capable team boss although those who have worked with him over the years say that he spends too little time on his F1 programs and does not always have the most effective managers to look after things while his back is turned. This was all right in the less competitive worlds where TWR enjoyed much success in the 1980s but in Formula 1 it has been a handicap during his tenure at Ligier and at Arrows.
There has been talk in recent months that the Ford Motor Company might look to Tom as the saviour of its F1 program and put him in charge of Jaguar Racing. Ford moves in mysterious ways but in recent years there was a strong anti-Walkinshaw move in Detroit, led by former president Jac Nasser. Nasser has gone and so it is possible that the people who have taken over will look again at Walkinshaw. The issue of his need to run the TWR group is one which must be taken into account and Ford cannot easily ignore what has gone on in recent months, if only from an image point of view. The other issue is that if Ford is looking for a new boss for its F1 activities there are no obvious candidates although there are plenty of capable people in number two positions up and down the pitlane who are ready to step up and get the team running as an F1 operation should. They may not all be front men but they do know what it takes to put together a good team. Some of these people may be under contract elsewhere (a possible example would be Martin Whitmarsh at McLaren) but the offer of the chance to run a team could provide them with the incentive to move. Others, such as Trevor Foster, former managing-director of Jordan, or Joan Villadelprat (formerly of Benetton and Prost) are on the market or working under short-term contracts.
Formula 1 boss Bernie Ecclestone appears to be in favor of keeping Tom in the sport and will no doubt be arguing in his favor.