JULY 21, 2002
Button goes to BAR!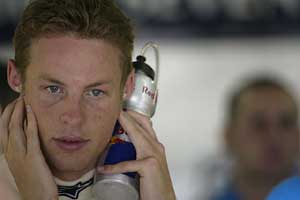 ALTHOUGH it has yet to be announced the final details are now being made to a contract which will see Jenson Button racing with British American Tobacco for the next two years. As the Grand Prix circus was packing up at Magny-Cours the final details of the negotiations were taking place with Button and his management finishing off the contractual details with Frank Williams, who has contractual obligations with Button next year.
The interesting thing now will be to see whether Button will be partnered by Jacques Villeneuve or by Olivier Panis and our sources say that the decision has yet to be made. Villeneuve has a contract for one year but BAR wants him to accept a longer deal - believed to be two years plus an option. Panis is waiting to see if he will be retained but is also negotiating with other teams. The talks with Villeneuve are largely a question of money as Villeneuve, who has invested heavily in the team (from a career point of view) wants to ensure that he is fairly rewarded. The bad news for Jacques is that there are not really any major options which will offer him the same kind of opportunity as BAR, which will have exclusive use of Honda engines next year.
The BAR board of directors met at lunchtime on Sunday at Magny-Cours to discuss the details of what it wants for the future and an announcement is expected later this week although things could be delayed if the negotiations with Villeneuve cannot be concluded rapidly.