JULY 17, 2002
JP Montoya join forces with Sports Telecom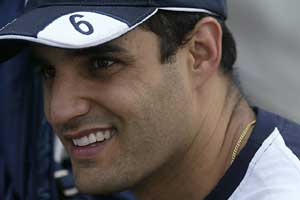 JUAN PABLO MONTOYA is the latest F1 star to join forces with Sports Telecom to develop branded mobile services and products. Sports Telecom has gained a license from Montoya that includes everything from logos, picture messages, ringing tones to games, MMS and 3G-services. The license also include mobile phone accessories such as mobile phone covers.
The company is run by former Ferrari F1 driver Stefan Johansson.
"We believe in the idea of building the mobile environment around a strong international sport - or entertainment brands," says Johansson. "It makes sense to use a service that is related to something that really appeals to you. Montoya is one of the strongest names in Formula 1 and sports in general today, we are very excited to have him onboard. There are a lot of possibilities and we have many ideas."