JULY 15, 2002
Walkinshaw close to a deal with Morgan Grenfell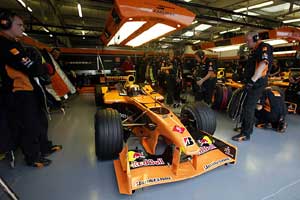 TOM WALKINSHAW is rumored to be close to completing a deal with Morgan Grenfell, which will allow him to sell the Arrows F1 team to Red Bull GmbH and Red Bull Inc. It is not clear whether Walkinshaw himself will have a role in the team if that happens but this seems like a likely outcome given that the plan to turn the team into Red Bull Team USA in the hope of attracting big backing from the United States of America has existed for at least 15 months.
The big question in F1 circles is whether or not Walkinshaw will have to deal with any implications of the recent highly-critical judgement against him and his various companies and colleagues by High Court judge the Hon. Sir Gavin Lightman.
Walkinshaw said at Silverstone that he and his staff had been unable to present the judge with all the evidence available and that he could understand that the judge reached his conclusions "because it looked like we were trying to go and pull a fast one".
One might ask the question as to why this other evidence was not put forward.
Whatever the case, Lightman is a highly-experienced High Court judge (he has been at the High Court for eight years) and is an authority in both property law and receivership, having published books on both subjects. He also has some knowledge of the automobile world through his membership of the Royal Automobile Club. Thus his rulings cannot be rejected out of hand as being those of a judge who does not understand what he is doing.
There are also questions of conflicting evidence put before two different courts by Walkinshaw's staff and legal teams.
There is an argument being put forward that Morgan Grenfell's inactivity in the last year is evidence that the company was no longer interested in the business of Formula 1 but this is tenuous, as legally-speaking it retained considerable rights with the Arrows team.
Walkinshaw needs to find answers to these problems before Wednesday when a payment of $1.5m is due to Cosworth Racing. As part of the deal hammered out at Silverstone the team will pay Cosworth the same amount of money on the Wednesday before each race to help clear the debt. The payments have been guaranteed by Tom Walkinshaw and others in the F1 community.
Justice Lightman said that the company could be successful "if the management of Arrows is placed in competent and honest hands".
It is in the interest of everyone in F1 that the team continues to operate but only if that happens without any legal issues which may ensue as these would cast the sport as a whole in a bad light. The image of F1 has been suffering of late because of the collapse of Prost Grand Prix and the activities of some of the other team owners in recent months but the sport is still fundamentally sound as money can be found for successful teams.
The fact that Arrow tested Formula 3000 racer Sebastien Bourdais last week in Valencia would seem to suggest that immediate funding problems may have been taken care of by Bourdais's backers.
There is also the problem of Jos Verstappen to be taken into account. Verstappen was due money in the days before the British GP and had a winding-up petition ready to go in against Arrows. It was decided on the Friday that winding-up the team would serve no positive purpose as no-one would get paid and F1 would lose another team. Whether or not Jos's generous move will be rewarded with the money he is owed remains to be seen...