JULY 10, 2002
Arrows looks to find answers before French GP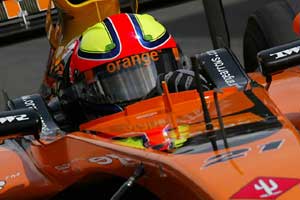 THE Arrows team needs to find answers to its problems before Wednesday, July 17 - eight days from now - when the team has to come up with its next payment to Cosworth Racing. Tom Walkinshaw's plans to sell the team to Red Bull were blocked by the High Court in London and Walkinshaw must now work with Morgan Grenfell to find a solution to keep the company in business.
Morgan Grenfell and Walkinshaw are not on the best of terms because of the lawsuit between them but the only way forward is if the two parties work together. The first problem is to solve the company structure as the revamping of the company a few months ago appears to be somewhat flawed.
Morgan Grenfell is reportedly trying to work out a deal in which Craig Pollock takes over the running of the team.
More news is expected in the days ahead...