JUNE 28, 2002
The Australian Grand Prix - a problem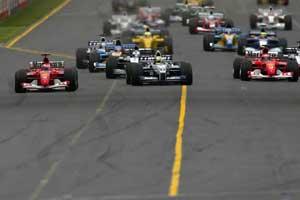 THE world's media was focussed on the team orders in Austria issue when FIA President Max Mosley held his press conference in Paris on Wednesday and no-one paid much attention to the fact that the Australian Grand Prix remains provisional on next year's World Championship calendar.
Grandprix.com did, however, ask Max Mosley about the problem.
"The issue is safety and to make sure that we don't get another problem," he said.
But there was no further explanation - which left a great deal of uncertainty as to why there was a problem. The safety in place was good enough for the race in 2002 and so that is clearly not the issue and one must assume therefore that the problem is procedural rather than actual. The most likely explanation is that there is something in the Coroner's Report into the 2001 accident with which the FIA is uncomfortable. At the time the Victorian State Coroner Graeme Johnstone said that the accident was "avoidable". This ruling obviously irritated Mosley who responded saying that it was "workmanlike and useful" - which was damnation by faint praise.
It is a fact of motor racing that every accident is, in essence, avoidable. Measures can be taken to safeguard against one kind of accident and can cause another. The hole in the debris fencing through which a wheel was able to pass before hitting Beveridge was there because of the need to allow marshals access to the track in case a driver needed to be rescued. If an accident occurred and marshals were not able to get to the scene because of fences being in the way there would be an even worse outcry.
We believe that it is the ambiguity of the coroner's report which is the problem and that the FIA has made it clear to the Melbourne authorities that it is not willing to hold a race in Melbourne unless the ruling is clarified and assurances given about the way in which the inquest as held. There were serious questions about the qualifications of the "safety expert" called in by the court. Mark Dohrmann was an authority on repetitive strain injury and had no knowledge of motor racing.
These issues are certain to be solved by State Premier Steve Bracks, who controls the judicial system in Victoria, as the race is a big bonus for the city of Melbourne.