JUNE 27, 2002
Ferrari's divided loyalties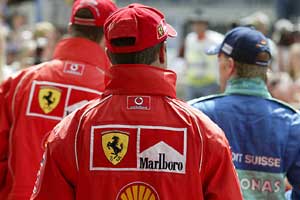 FERRARI may have shown admirable cohesion in recent years with Jean Todt's little army all singing from the same song sheet almost all of the time but there is going to be alot of amiable discord this weekend when Germany meets Brazilian in the World Cup Final. It seems to have escaped the attention of most F1 observers that Michael Schumacher is a football fan and is German and that Rubens Barrichello is a football fan and is Brazilian.
Fortunately the soccer match will not be taking place on a Grand Prix weekend as the passion generated by football might result in one nerfing the other off the race track!
There is a similar problem at Sauber where Nick Heidfeld is teamed with Felipe Massa and the two find mutual irritation in the soccer preferences of the other and Arrows is not going to be a happy place either as Heinz-Harald Frentzen and Enrique Bernoldi have the same problem.
Team bosses spend most of their time fighting one another and it will probably not amuse them much that when they get back to their motorhomes they will find their drivers needling one another about soccer...