JUNE 26, 2002
FIA hits hard... or does it?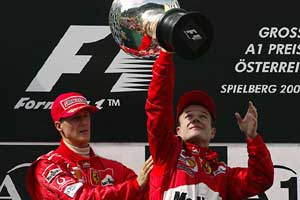 THE FIA WORLD COUNCIL has ruled that Ferrari, Michael Schumacher and Rubens Barrichello should share a $500,000 fine for what happened on the podium at the Austrian Grand Prix. The drivers and the team were not punished for the imposition of team orders although the World Council pointed out that it had decided "with some reluctance" that it could take no action because the drivers were under contractual obligation to the team and that team orders are not illegal, even if they are implemented in a clumsy way.
The FIA could act on the podium procedure and so took that opportunity to fine the team but a $500,000 divided equally between the three parties is not much in a world where a million dollars is used up every two days by a top team like Ferrari. Schumacher was singled out for his behavior on the podium, for failing to acknowledge the Austrian Chancellor and then immediately handing the trophy to Barrichello, who was standing on the top step of the podium when he should have been on the second placed position. This was a clear breach of Article 170 of Formula 1 Sporting Regulations which clearly states the podium procedures must be adhered to.
There is an additional $500,000 suspended just in case there is a repetition of the problem (which is not likely to happen) which enabled the FIA to put out a press statement saying that the team had been fined a million dollars - which looks like s severe penalty.
In fact the penalty seems to be rather insignificant given the scale of the reaction from the general public after the Austrian event.