JUNE 25, 2002
SCOOP: The new look Williams!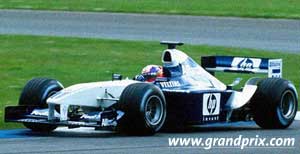 THE BMW Williams team has been keen to keep the wraps on its new livery for when Hewlett-Packard takes over as the team's sponsor from Compaq, but the new look has been run on the cars and www.grandprix.com has acquired some photographs of the cars in action at a recent filming session at Silverstone. The new color scheme will be officially unveiled at the British GP next week.
The switch from Compaq to Hewlett-Packard has come about because of the takeover of Compaq by HP, a lengthy battle which ended in May with HP chief executive Carly Fiorina beating off a challenge to the $18bn deal which had been led by Walter Hewlett. The switch at Williams was announced just a couple of days after the merger was confirmed. The two companies are now being integrated and although both brands will be retained in the future, HP has taken over the Williams sidepods.