JUNE 21, 2002
No worries for Jaguar Racing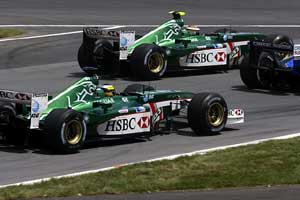 THE comments by Nick Scheele of the Ford Motor Company, reported earlier this week in the FRANKFURTER ALLGEMEINE ZEITUNG, were not correctly reported - or at least that is what the Ford Motor Company is now saying.
The comments suggested that Richard Parry-Jones is doing a six-week survey into Ford's involvement in F1 with Jaguar and Cosworth and that this could lead the company withdrawing from the sport.
Parry-Jones is in the middle of a study on F1, but the aim is establish what is needed for Jaguar Racing to become a winning team. That should be completed in a month from now but it will not result in the end of the program as the Ford management want success in F1.
The next few weeks will be key to the future of the current team at Jaguar Racing, as the much-revised chassis will run for the first time next week at the Ford testing grounds in Lommel in Belgium. This venue has been chosen because the testing can take place in complete secrecy as Lommel is hidden away in a remote and wooded part of Belgium, close to the Dutch border. It is expected that the aerodynamic tests will be carried out by Andre Lotterer and if they are successful the car will then be sent to Barcelona at the end of the week.