JUNE 21, 2002
Fisichella and Sauber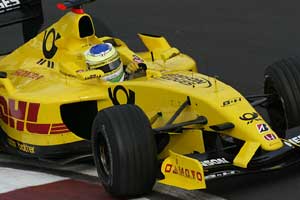 THE most interesting rumor at the Nurburgring - where the Formula 1 circus seemed to be more interested in soccer than in going motor racing - was that Giancarlo Fisichella could be on his way to Sauber next year. Sauber did not seem to know anything about the rumors but sources admitted that Fisichella would be a good recruit if he was available and if the team had a drive available for 2003. At the moment, however, Sauber has both Nick Heidfeld and Felipe Massa under option for next year and there seems to be little reason to change.
The one possibility is that Heidfeld will disappear off to a drive at Toyota, leaving a gap which Fisichella might take. Fisichella is believed to be under option to Jordan for 2003 but, as there are clauses in his contract regarding performance and a works engine, it is quite possible that he could move on.
The latest word from Japan, incidentally, is that Honda might not be as hard on Jordan as has been suggested as the company does not wish to see Jordan running into difficulties because of its decisions. Having said that one must remember that Honda did not have such qualms some years back with Williams.