JUNE 19, 2002
A choice for Villeneuve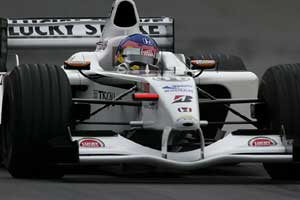 DAVID RICHARDS, the boss of British American Racing, has made some interesting comments recently about Jacques Villeneuve. Richards is stuck with a contract which sees Villeneuve staying with the team next year at a salary of a rumored $20m. Richards is happy to keep Jacques but he is not happy at the price he is having to pay. The deal was done between Villeneuve and former BAR boss Craig Pollock (who also happens to be Villeneuve's manager) and has all the signs of having been a "poison pill" to stop anyone ousting Pollock. British American Tobacco did not let this stand in the way of its decision-making however and so Jacques is sitting pretty.
Except that Richards has made it clear that Villeneuve has a choice to make.
"It is a pile of money which will be going into one side of the team and not into another," Richards told AUTOHEBDO magazine. "The money will not, for example, be going into the development budget. It is up to Jacques to decide what he wants."
In Montreal Jacques made a remark which would seem to indicate that he understands the problem.
"Money is nice," he said, "but winning is better."
But the question is will Jacques take a pay cut to help move the team forward?