JUNE 19, 2002
Schumacher to help FIA with Euro NCAP launch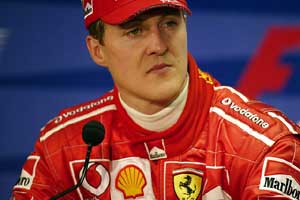 Michael Schumacher is helping out the FIA next week at the latest Euro NCAP launch. The event in Cologne will reveal only the second ever car to win the coveted Euro NCAP five-star award for crashworthiness - and there isn't a Fiat or a Ferrari in the running.
The list of cars which were evaluated in the latest phase of the Euro NCAP program were the Audi A2, BMW Mini, VW Polo, Opel Corsa, Range Rover, Opel Frontera, Jeep Cherokee, Honda CRV, Mazda MX5, Mercedes SLK, Honda S2000, Ford Mondeo, Opel Vectra, Jaguar X-type, Peugeot 607 and the Proton Impian.
To date only one car has ever received the maximum score for crash-testing - the Renault Laguna in 2000 - and there is much interest as to which car will be the second to receive the accolade.
Cynics will say that Michael Schumacher's involvement is convenient given the fact that he is about to go up before the FIA World Motor Sport Council to try to explain his actions at the Austrian GP but our spies in the FIA say that the whole Euro NCAP event was planned long before the Austrian GP and was timed to coincide with the European GP at the Nurburgring. In fact we hear that the FIA is rather embarrassed as the World Champion might find himself unveiling a triumph for Ferrari's F1 rivals Mercedes-Benz or Jaguar. Schumacher's presence will, of course, give the event a much higher profile than would be the case if he was not there.
Whatever the result the World Champion will have the pleasure of watching whichever car it is that has won the five-star award being subjected to a live frontal impact crash test in front of him - and the assembled international media.
Sounds like a smashing event!