JUNE 17, 2002
David Coulthard and McLaren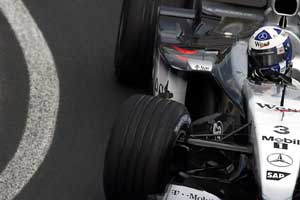 THERE has been much publicity about comments made in the THE SUNDAY MIRROR by former McLaren driver John Watson that David Coulthard will not be racing for McLaren next year. Watson says that he thinks Coulthard should head off to Toyota.
The stories seem to suggest that Watson has an inside line at the team - and in the past this has been true on occasion but at the same time there are very sound reasons why McLaren does not want to change its driver line-up.
Coulthard drove a faultless race in Monaco and won the team's only victory. Kimi Raikkonen has been faster in qualifying over recent months but the World Championship standings show that Coulthard has a big advantage over his young team mate. The fact that they have not been able to achieve more has been down to the fact that the car (or perhaps it is fairer to say the engine) has not been up to the task this year. That cannot be blamed on Coulthard and the one occasion on which he has had the chance of victory he has grabbed it.
The team also needs technical stability as it tries to work its way through the problems. Keeping the same driver will help that progress. It is not the right moment to change drivers. By the same token it needs to be said that there is no obvious candidate to step into McLaren who will be faster than Coulthard. The team has taken risks in the past with drivers like Michael Andretti but they have not been successful. The one man who might fit the bill is Juan Pablo Montoya but Williams had an option on the Colombian and the idea of a pay-off is not really very sensible as it would cost a minimum of $20m (and it is hard to see how Mercedes-Benz would agree to fund the BMW F1 program).
The suggestion that Coulthard should go to Toyota is also one which might not be accepted by the team. Toyota does not need the high profile that Coulthard would bring as the team is not ready to challenge for victories. If the team considers that the current drivers are not up to the job then the best choice would be to take on a low-profile figure such as Alexander Wurz or Nick Heidfeld, which would make a lot more sense.
However, in F1, one must accept that there are always surprises. Perhaps "Wattie" is right...
Only time will tell.