JUNE 17, 2002
Why Webber is testing a Jaguar?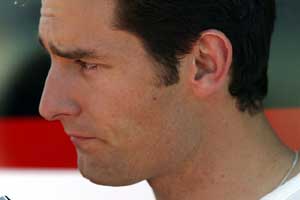 MARK WEBBER will be testing a Jaguar at the end of next week and it is not really a surprise given that Fernando Alonso was recently seen in one of the British Racing Green cars. It is quite possible that Webber and Alonso could end up as Jaguar team mates in 2003.
Niki Lauda is looking around for new talent in 2003 and Flavio Briatore, who has management contracts with both Alonso and Webber, seems to have most of the young drivers worth having under contract to his British Virgin Island-based management company, which is run by Bruno Michel. An accountant by trade, Michel has been involved at Ligier since the team was bought by Cyril de Rouvre in 1993. After de Rouvre was arrested on fraud charges Michel worked with Briatore on the takeover of the team and became financial controller during the period when Tom Walkinshaw was in charge. After Walkinshaw left Michel became Operations and Financial Director and ultimately managing director. He then ran Supertec for Briatore before being put in charge of Briatore's management company.
It is not thought likely that Jaguar will retain either of its current drivers as neither has done well this year (albeit in disheartening circumstances). We hear that Eddie Irvine did offer his services to Jaguar for a substantially reduced fee but that his offer was not accepted. The recent spate of rumors about Irvine doing a deal with Eddie Jordan seem to have come after that decision was made.
Webber is a possible replacement for Jenson Button at Renault when the British driver goes back to Williams in either 2004 or 2005 and so it would make sense for Briatore to place him somewhere where he can add to his racing experience without having to sit out more time as a test driver - as Alonso has been doing this year.