MAY 2, 2002
What is Eddie Jordan doing?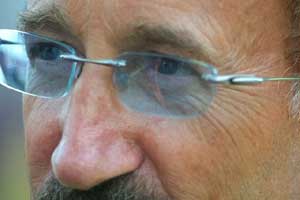 THIS week Eddie Jordan took his new rock and roll band V10 to Germany to play at a Deutsche Post function in Bonn. Admittedly this came at the end of a two-day conference for shareholders aimed at showcasing Deutsche Post's international operations - in which Formula 1 obviously plays a role. Keeping Deutsche Post happy is important but it is not that important because the Germans will inevitably take a walk if the team does not improve performance. The primary motivation therefore should be to improve the performance of the cars.
The theme of the Bonn conference was "Time" and this theme is one which they are chewing on down at the Jordan factory. Was this the right time for Eddie Jordan to be going off showboating in Germany? A few days earlier Jordan had wiped out around 50 jobs (and several other people had left when they realized what those cuts would mean). The workforce does not swallow the line about turning Jordan back into a lean, mean, focused machine. How can they when their leader is more focussed on playing rock and roll gigs than rebuilding the team?
Time is also an issue on the race tracks because the Jordan cars are not performing. Giancarlo Fisichella is watching his career sliding away from him and is quietly regretting the decision to move from Renault to Jordan. Takuma Sato is at a delicate stage in his career where he needs support because things have not gone right and that will be affecting his confidence unless he is handled carefully.
The discontent at Jordan is not new. There have been signs for more than a year that people were not happy with the way the team was developing. Eddie Jordan was off building up his "Jordan" brand and playing with his toys. We heard estimates of the number of days in which Eddie was in the office but they seemed to be so outrageous that we chose to ignore them.
The Jordan team was built as a tightly-knit group of people, loyal and faithful to Eddie Jordan. Somewhere along the way that feeling has gone. In the course of the last year (even before the recent lay-offs) 30% of the staff at Jordan had changed. A dozen engineers had moved to Renault Sport.
Eddie Jordan realized (finally) that there was a problem and talked about focusing the team and rebuilding but just a few days later he has disappeared off again...
The team has garnered only three finishes in five Grands Prix (10 starts) and there are no signs that things are going to improve because the job cuts have hurt the team's capacity to do serious testing and development.
Eddie Jordan will not want to hear it but in the F1 paddock they are saying that he is no longer serious about winning in F1. He faced the decision whether to reinvest some of the money he took from the team when he sold 40% to venture capitalists in 1998. He chose to keep the money and cut costs instead. His partners, it must be said, have also decided to take that route. This will balance the books and avoid debt but it will not enhance performance. And so the only conclusion that one can have is that EJ is simply battening down the hatches and waiting for someone to come along and make him an offer.
That may sound harsh but this is what they are saying...