FEBRUARY 14, 2002
Arrows to launch in Melbourne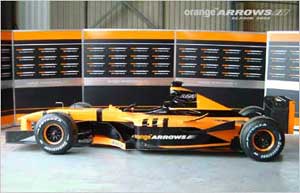 NOW that Tom Walkinshaw and Arrows has sorted out who will drive the new A23 in the coming season, the team has announced that they will officially launch the new chassis in Melbourne just days before the opening round of the 2002 season.
Heinz-Harald Frentzen, Enrique Bernoldi and the rest of the team will showcase the new Cosworth powered car at Albert Park on Wednesday, February 27, two days before practice begins for the Australian GP.
The A23 has been on the track since February 4th, but was never officially launched. It features a Sauber-type front aero package, a slightly cleaner rear engine cover design, and the new Cosworth powerplant.