FEBRUARY 14, 2002
Will Ecclestone buy back his empire?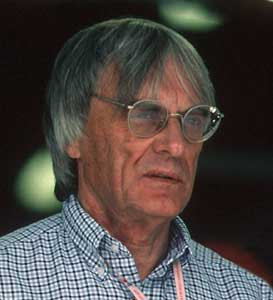 REPORTS in the German newspapers yesterday said that Bernie Ecclestone is ready to spend $700m to buy back the shares in SLEC which are owned by Kirch Media. Ecclestone made a total of $2.28bn selling 75% of the company and the offer to buy the shares back at third of the price would not doubt appeal to Bernie's sense of humor but it is really a question of whether he can bothered to go through the hassles associated with the sport for a few more years.
Ecclestone knows that he could sell the whole package all over again once he was convinced the teams and the manufacturers to work with him. The problem is whether or not he would be able to do that as the manufacturers have been very outspoken in their desire to control the purse strings of the sport. Getting the manufacturers to agree to a new deal would be an achievement, particularly as their control of the decision-making process is getting stronger all the time notably in the Formula 1 Commission, the ultimate decision-making body in F1 as only one team (Minardi) is now not aligned to a manufacturer.
Ecclestone may relish that challenge although at 71 he may also think that he deserves a quieter life, dabbling in the London property markets.
The other issue is whether or not Kirch would accept the offer. The company may be short of cash at the moment but to sell the shares back to Ecclestone $700m would mean a massive loss on the investment.
Having said that Kirch is fighting for survival and so $700m would be a big help as he tries to fight off his creditors.
If Ecclestone does do the deal the next few years are going to be interesting particularly if the manufacturers say they will not do a deal with Bernie. There were a lot of discussions before Bernie sold the business to Kirch but they did not offer the manufacturers a good enough deal and it is hard to see how that will have changed. Whatever happens Ecclestone remains in charge of the business for the next few years thanks to a shareholders agreement he has with Kirch.