FEBRUARY 7, 2002
Prost attacks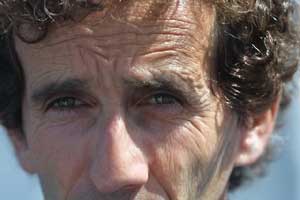 ALAIN PROST has lashed out in an interview with the French weekly magazine AutoHebdo at those people who he feels bear some of the responsibility for the failure of Prost Grand Prix.
Prost said that he was naive and made mistakes.
"One of the mistakes I made was to be too nice to Peugeot," Prost said. "In 1994 Ron Dennis recognized immediately what was going to happen and broke the contract with them. That was easy for him because he had Mercedes-Benz waiting behind the door. My mistake was not to have the force of character to say: 'No".
Prost said that five big companies all agreed deals but then failed to deliver the money promised. He claimed that Yahoo! signed a deal worth $100m over three years but withdrew after just a few months because of problems with the Internet economy.
Prost said that one of his biggest mistakes was to hire Alan Jenkins as technical director.
" I worked with him at McLaren," Prost said. "He was pleasant, open and available. When he was with me he was closed up and totally anti-French. He destroyed what Bernard Dudot had created within the team and with the suppliers. That was an enormous error of casting. A catastrophe that I ended as quickly as I possibly could."
Prost was also very critical of his partner in 2001 Pedro Diniz, describing Diniz as being "not very serious, immature and Daddy decided everything".
Prost claimed that on one occasion he had a meeting planned with Diniz and his lawyers to discuss the Brazilian buying the team and Diniz did not even turn up as he was "on his boat in St. Tropez".
Prost also criticized the French government for its 35-hour week legislation and huge social charges when at the same time it is a 30% shareholder in Renault and allowed the company to buy Benetton Formula to get around these problems. Prost said that he was "disgusted by the way in which things happened" in France and said that he feels that he has a better understanding of "the Anglo-Saxons and even the Italians!"
Prost also said that in four years the team underwent three tax investigations and one from the social security authorities.