FEBRUARY 6, 2002
Ferrari F2002 - so what's new?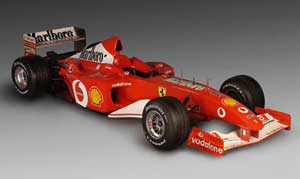 THE rumors have been circulating for weeks but the new Ferrari F2002 does not look very different from its predecessor. The changes are apparently under the surface, which is hinted at by the new rear suspension around a new transmission, following the Minardi lead of being cast from titanium. The car has subtle aerodynamic changes with the center of gravity having been lowered and weight saved. This has meant that the car is completely new despite the fact that it looks similar to the existing car.
The new 051 engine is a development of last year's unit but the transmission is completely new.
The team admitted that the F2002 may not be ready in time for the new season if there are problems with the new parts and that it was possible that the team will go to Melbourne with modified versions of the F2001.
The team has just three weeks in which to make that decision as the freight must leave for Australia on February 24.
The team's sponsorship package is much as expected with Vodafone taking the space previously occupied by Tic-Tac and Federal Express and Vodafone also taking the front wing endplates which were previously sponsored by Telecom Italia's TIM brand.