FEBRUARY 4, 2002
New Arrows runs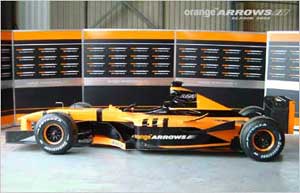 THE new Arrows A23 was run for the first time at the Kemble airfield in Gloucestershire, 25 miles from the Arrows factory, on Monday February 4. The car was about a week behind schedule.
The car looks similar to the 2001 model although it has obviously undergone considerable windtunnel work and the first picture suggest that the nose of the car has been raised a lot. The implication is that the chassis features the same sort of front-end aerodynamics as was seen on the Sauber last year. This should make the car rather more competitive than last year's A22. The rear bodywork has also been changed with the unusual engine cover of last year now replaced by a much neater line thanks to the smaller and lower Cosworth V10 engine. The big question is whether or not the car has the same sized fuel tank as last year as the Cosworth V10's consumption last year was exceptional and it may be good enough to let the team run with the small fuel tank seen in 2001. If this is the case the team could be much more competitive as last year's car was quiet good when the team did not have to stop more times than its rivals.
The car was designed by a team led by Mike Coughlan, which featured chief aerodynamicist Niccolo Petrucci (formerly at Ferrari) and the team's head of research and development John Davis (although he left the team in September to join Minardi).
The main feature of the A23 was the change of engine. Amazingly this is the team's fifth change of engine supplier in six seasons. This means that Arrows engineers are never able to perfect their chassis-engine combinations before having to move on to a completely power unit. This does have a negative effect on performance when one compares it to a team like McLaren which has with the same engine company for the last seven seasons. A new engine means a change in the rear of the chassis design and, according to Arrows (which should know!) this adds roughly one month to the design process.
The A23 is an evolutionary car and consequently keeps some elements of last year's car. There must be a fair number of old components as the team decided not to build an interim chassis to test in January testing.
Arrows was troubled last year by budgetary problems and with the team having to pay around $22m this year for the Cosworth V10s the pressure will be on to perform as the team's Orange sponsorship deal comes to an end this year.
It is still not clear who will race the car this year because although the team, has named both Enrique Bernoldi and Jos Verstappen it is admitting to talks with Heinz-Harald Frentzen, who is out of work following the collapse of Prost Grand Prix.