JANUARY 16, 2002
Denials from Ferrari, but Montoya must be a target on Maranello's radar screen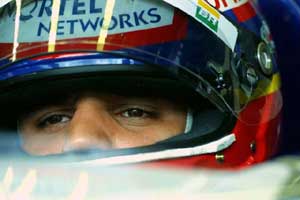 NOBODY would question Ferrari sporting director Jean Todt's assurances when he says that there has been no approach, either directly or indirectly, to Juan Pablo Montoya as a possible long-term candidate to replace Michael Schumacher if and when the four times World Champion finally hangs up his helmet.
Nevertheless, when that day finally approaches Montoya unquestionably looks the most likely candidate for the job, his laid back insouciance and independent temperament almost standing out as a caricature of what a classic Ferrari driver should be like. Moreover, he is currently also the brightest emergent star in the F1 firmament and is now managed by the astute entrepreneur Julian Jakobi, a one-time protege of Mark McCormack's legendary IMG organization and a former personal manager of Alain Prost and Ayrton Senna.
Montoya's contract with the BMW Williams squad expires at the end of 2002 - at the same time as Rubens Barrichello's Ferrari deal comes up for renegotiation. It is therefore certainly not beyond the bounds of possibility that Montoya could be seen in a Ferrari for 2003, although a major sticking point could be Schumacher's contract which guarantees him priority over the second driver in the team. However, if Schumacher was only to drive for another two years beyond the end of 2002, it is conceivable that Ferrari could renegotiate his deal to end that arrangement and this leave the path open for Montoya to sign up.
For the moment, however, this is all academic as Montoya squares up to the 2002 season in his current role as a BMW Williams contender. He is reputed to earn less than half Ralf Schumacher's $8m retainer and will surely therefore be out to justify a substantial rise for 2003 is Frank and Patrick Head want to retain his services. Most observers think they will be wise not to let such a huge talent slip through their fingers in the longer term.