DECEMBER 18, 2001
Richards joins BAR, Honda renew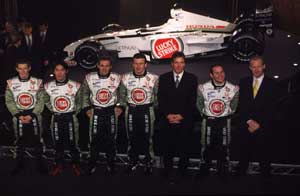 BRITISH AMERICAN RACING revealed their 2002 chassis this morning, and it was announced, as expected, that David Richards is taking over as Team Principal.
Buried beneath the hullabaloo of a change in top-level management, British American Racing and Honda have confirmed their partnership for another three years at the launch of the 2002 contender.
BAR's inauspicious debut in 1999 gave rise to some consternation in the paddock when it was chosen as the team to lead Honda back into the sport in 2000 after an eight-year break. The glory days of title-winning success with Williams and McLaren are a long time ago now, and at times in 2001 they must have seemed a very long way away indeed as time and again Jordans and BARs ended their races in a cloud of smoke.
BAR has however been working with Honda from the start of their partnership, involving Honda engineers in the design of the chassis and attempting to create a harmonized package. The results have not been forthcoming in 2000 and 2001 - save a brace of fortuitous podium finishes for Jacques Villeneuve - and the pressure appeared to be on BAR to earn itself an extension to its Honda deal in 2002.
Despite having been beaten by fellow Honda team Jordan in 2001, Honda has laid its cards down far earlier than expected and backed the Brackley-based team. Honda's head of racing technology development Toru Ogawa announced the deal at the launch of the new BAR 004 and said: "For 2002 we introduce a brand new engine and on the chassis side we are strengthening our commitment with our new long-term agreement with BAR."
New team principal David Richards added: "With today's announcements BAR can move forward with a secure future based on strong partnerships."
Having apparently stolen a march on BAR through the last season both in terms of results and in the promotion of Honda and its interests, like signing Takuma Sato for 2002, Jordan now finds itself in for a difficult season in 2002. Jordan must now chase as beneficial a deal as BAR has secured, and finds itself no longer in a neck-and-neck race with its rivals for Honda's approval but coming from behind.