DECEMBER 13, 2001
Bernie threatens Belgian GP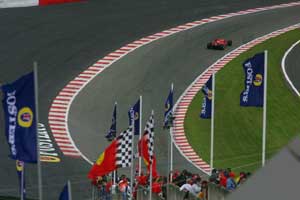 F1 frontman Bernie Ecclestone has threatened that the Belgian Grand Prix could be cut from the 2003 F1 calendar if the government imposes a national ban on tobacco advertising.
"Belgium must adopt the same stance as the rest of Europe, where tobacco advertisement is permitted until 2006. We cannot make exceptions for certain organizers", said Ecclestone. "We will not necessarily hold a Belgian GP in 2003".
Grand Prix have been held at the Spa-Francorchamps circuit since 1925, and the modern circuit has been on the F1 calendar since 1983.
Ecclestone first threatened the race in 1997, when Belgium's parliament initially approved a ban on tobacco advertising, tougher than that of the European Union, and again in 1999, when the government threatened legal action against teams displaying tobacco advertising.
There is no doubt that Spa is amongst the most famous circuit in the world, and a favorite among the drivers. Michael Schumacher once said "It is without doubt the best circuit in the world. The kind of atmosphere you get at Spa is something akin to the old Nurburgring. It is the only place which still has this quality and atmosphere. Eau Rouge is really the most tremendous corner. It is like flying downhill and seeing a big mountain in front of you. You get the feeling that you are driving into the road and then you go up and it is a sensation which is probably the best you can experience and the most satisfaction you can have as a racing driver".
It is clear that some of the European rounds of the F1 Championship must be cut to allow expansion into other markets like Russia and China, but it is hard to imagine the F1 Championship without Spa.