OCTOBER 20, 2001
Formula Ford ready for historic weekend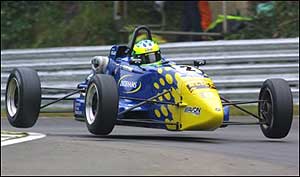 THE 30th annual Formula Ford Festival takes place at the Brands Hatch circuit in Kent, England this weekend (October 20-21), the former home of the British Grand Prix playing host to a multitude of young Formula 1 hopefuls.
Although the shootout tournament, featuring qualifying heats, quarter finals, semi finals and a Grand Final over the two days, draws entries from the top of all the 18 domestic Formula Ford championships worldwide, the British championship front runners are expected to dominate.
They include the works Mygale team of Haywood Racing, which has Jenson Button's 1998 British championship and Festival win to its credit, as well as that of last year's Festival victor Anthony Davidson. The strength of the Haywood team this year includes highly rated Westley Barber, Ronnie Bremner and Alan van der Merwe.
They must however tackle the Van Diemens that dominated the British series in 2001, with contentious British champion, Robert Dahlgren of Sweden, heading the way in his Murray Racing-prepared example.
The works Van Diemen team also starts strongly however, with another Swede, Richard Goransson, joining the American Patrick Long who is eager to avenge his defeat in the championship after Dahlgren punted him out of the final round at Silverstone.
"Brands is a circuit I always go well on," said the 20-year-old Californian in the buildup to the event. "Losing the championship that way was really a hard pill to swallow but I've had a month to get everything together and I'm running hot. Motivation certainly isn't an issue - the Festival is still the single biggest event in junior racing and I'm determined to put my name on it and bring the Neil Shanahan Memorial Trophy home to the States."
All the Formula Ford cars are powered by identical 1800cc Zetec engines, a mainstay of the Ford production range, that have been converted to racing specification and hit over 130mph within the confines of the 1.2-mile Brands Indy circuit. Highly powered and featuring no aerodynamic aids, the racing is fast and furious, offering about as many overtaking moves in a single race as Formula 1 manages in a season.
Ford is hopeful that as many of the surviving winners of the previous 29 Formula Ford Festivals will be present in the paddock to help proceedings along, including Johnny Herbert, Eddie Irvine and Jenson Button.