Columns -
Gobshite of the Year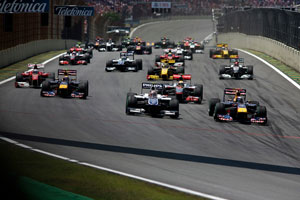 BY MAURICE HAMILTON
First, let me explain that a Gobshite is the idea of Hugh Leonard, an Irish playwright who used a column in a Dublin newspaper to distribute his annual awards. Leonard described a Gobshite as being a jackass, often harmless but always hopeless. D'you see where I'm going with this?

In seasons past, the most difficult part was narrowing the field of contenders and then deciding who had been primarily responsible for the biggest piece of nonsense to get in the way of racing. It is perhaps no surprise that, in the latter years of his office, Max Mosley figured strongly - but not as much as Jean-Marie Balestre, the blustering Frenchman who preceded Mosley as President of the FIA.

Which brings me nicely to the point. The reason we have enjoyed a period of relative calm in 2010 is thanks to Mosley's successor, Jean Todt, standing in the sidelines, observing all before him but avoiding open confrontation, a temptation Mosley found difficult to resist and, dare I say, quietly enjoyed. Todt's circumspection cleared the way for a couple of otherwise low-profile players to nominate themselves in the involuntary manner of a true Gobshite.

Step forward Dr. Helmut Marko. It is perhaps no coincidence that, like Mosley, Marko is a barrister. You would think that these people ought to know when to keep quiet. Perhaps they see the F1 paddock as their legal arena, the difference being that there is no Judge on hand to keep verbal outpourings in check with a threat of Contempt of Court proceedings.

I refer, of course, to Marko's extraordinary declaration that Mark Webber was totally to blame for the clash with Sebastian Vettel as they fought for the lead of the Turkish Grand Prix. Everyone is entitled to their point of view but Marko's opinion, notable only for its unique and eccentric nature, made you wonder how he had managed to survive as a racing driver until a fluke and very unfortunate eye injury during the 1972 French Grand Prix curtailed a promising career.

I'll refrain from saying Marko's was a one-eyed view but, had it not been for the calm diplomacy of team principal Christian Horner and the fact that the mechanics and engineers were impressively united as a team, Red Bull would have been well down the road to tearing itself apart unnecessarily.

It's one thing to be the man in charge of Red Bull's admirable Young Driver programme but quite another to blindly (sorry, no pun intended) support Vettel, even if Seb is the scheme's star pupil. Except for that moment of madness on lap 40, of course.

Ferrari gave Marko a run for his money when someone in authority at Maranello decided to advertise to the world that team orders were in play at Hockenheim. I do recall Ferrari were unchallenged as winners of the 2002 Gobshite Award with their ham-fisted finish in Austria as Barrichello was forced to hand victory to Schumacher within sight of the finishing line. It was this piece of in-your-face arrogance that provoked the stupid 'no team orders' rule Ferrari then drove a coach and prancing horses through in Germany last July.

It was more the way Ferrari broke the rule than the crime itself. We all know that the team orders ban was obeyed more in the breach than the observance but there was no need for Ferrari to not only load the gun but also point it their feet and wait for certain sections of the media - okay, the British national press - to pull the trigger.

The baiting of Fernando Alonso at subsequent press conferences was arguably the only blot on the social landscape. But if failed attempts to raise the incident to a hanging offence were the height of unpleasantness in 2010, then it's been a great season and an appropriate prelude to the festive period.

I will be back on January 3 with Old Mo's Almanac as the whole thing kicks off again. Can't wait. In the meantime, Season's Greetings; enjoy your break. And, as Dr. Marko and Ferrari might now say, do take care when overtaking.
<p><script src="http://connect.facebook.net/en_US/all.js#xfbml=1"></script><fb:like href="http://www.grandprix.com/columns/maurice-hamilton/gobshite-of-the-year.html" layout="box_count"></fb:like>