United States GP 2019
NOVEMBER 2, 2019
Practice 3 Report - Fast Max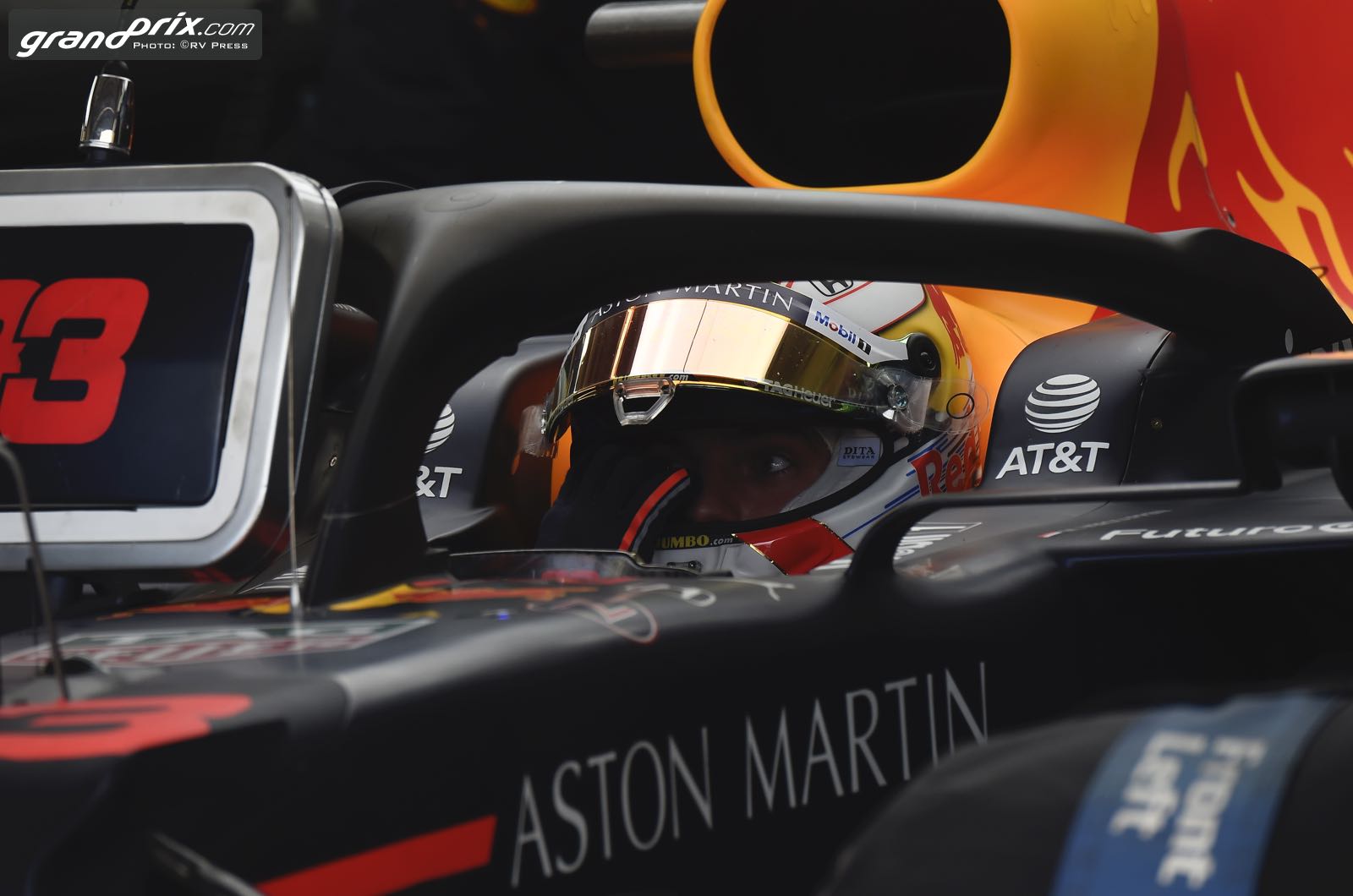 © RV Press
By Dan Knutson in Austin
Red Bull Honda driver Max Verstappen posted the fastest lap time in Free Practice 2 for the United States Grand Prix.
The line-up for the weekend was: Mercedes – Lewis Hamilton and Valtteri Bottas; Ferrari – Sebastian Vettel and Charles Leclerc; Red Bull TAG Heuer – Verstappen and Alexander Albon; Renault – Daniel Ricciardo and Nico Hulkenberg; Haas Ferrari – Romain Grosjean and Kevin Magnussen; McLaren Renault – Carlos Sainz and Lando Norris; Racing Point Mercedes – Sergio Perez and Lance Stroll; Alfa Romeo Ferrari – Kimi Raikkonen and Antonio Giovinazzi; Toro Rosso Honda – Daniil Kvyat and Pierre Gasly; Williams Mercedes – George Russell and Robert Kubica.
Hamilton's lap of 1:33.232 was the best on Friday.
"I'm not a fan of completely smooth circuits, but the bumps here are just massive," he said after FP2. "The problem for the drivers is that we don't have really much suspension, it doesn't really move very much, so it feel like sitting straight on the floor and your spine takes a lot of compression.
"The bumps felt pretty bad in FP1, but we made some changes to make it feel a little bit better for the afternoon session. I'm looking forward to the weekend - I love this track in general and the car felt fairly decent today.
"However, we've still got a lot of work to do, so we will dig through the data tonight and hopefully we can be strong tomorrow."
Magnussen and Norris were the first on track in FP3.
The ambient temperature at the start of the 60-minute session was 64 degrees Fahrenheit (18 degrees Centigrade) and the track temperature was 77 degrees Fahrenheit (25 degrees Centigrade).
Half the drivers did an install lap while the other half including the Mercedes and Ferrari teammates, remained in the garages in the early going.
Grosjean, however, was anxious to get some laps in after crashing in FP2, and he clocked a 1:36.579 at the 15-minute mark.
Leclerc would get only one lap in FP3 as he stopped at Turn 19 on his second tour. Smoke drifted from the back of his Ferrari. "There's something wrong with the engine," he radioed before walking back to the paddock.
There seemed to be no problems with the other Ferrari as Vettel clocked a 1:34.733 a few minutes later. Bottas then beat that by posting a 1:34.558. Vettel responded with a 1:34.441.
Then, just before the halfway mark, Vettel, on the soft compound Pirellis, improved to a 1:34.339. Moments later, Verstappen, also on the soft slicks, grabbed second place after turning a 1:34.458.
But Vettel's time was deleted because he had exceeded the track limits at Turn 19. Still, his previous best kept him out front until Verstappen improved to 1:34.186.
So now the order was: Verstappen, Vettel, Bottas, Hamilton, Hulkenberg, Gasly, Sainz and Magnussen. And at the same time Leclerc's car had been returned to pit lane and the Ferrari mechanics pushed it to the garage.
Albon was on the move, and with 21 minutes left in the session he'd climbed up to fourth. And now most drivers were in the pits preparing for their qualifying simulations.
Bottas was the first to attempt that, and took the lead with 1:33.904. Several minutes later Vettel did his soft tire run which yielded a 1:33.523, so now he was on first. Hamilton, meanwhile, only managed a 1:34.025. Verstappen grabbed second spot by setting a 1:33.717.
The order was now Vettel, Verstappen, Bottas, Hamilton, Raikkonen, Albon, Grosjean and Hulkenberg. But it was not going to stay that way. Verstappen grabbed the lead at 1:33.305 with seven minutes to go, and Norris swept up to third.
Nobody could beat Verstappen's time, but there was shuffling further back and as a result the top 10 at the end of FP3 were: Verstappen, Vettel, Norris, Bottas, Hamilton, Albon, Sainz, Raikkonen, Gasly and Ricciardo.