United States GP 2017
OCTOBER 23, 2017
Race Analysis - Barely Alive: How Hamilton all but smothered Vettel's championship hopes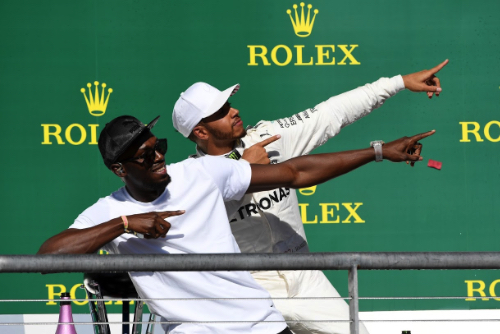 © RV Press
By Dan Knutson in Austin
Lewis Hamilton won the United States Grand Prix for the sixth time and moved ever closer to wrapping up his fourth world championship. Sebastian Vettel finished second and thus kept his championship chances alive - albeit barely so - because he still has a slim mathematical chance of swiping the title out of Hamilton's grasp. Here's how their races unfolded.
NOW 72
Hamilton won the pole in Mercedes, bringing his total up to 72.
HOPE
Vettel qualified his Ferrari second with a lap 0.239 of a second slower than Hamilton. So while Hamilton was faster, Vettel still was on the front row of the grid and had hopes of snatching the lead.
AND HE DID
And Vettel did just that, out-dueling Hamilton out of the first corner to take first place.
"Didn't get away to a great start, not really sure why, but Sebastian got a great start," Hamilton said. "But I was kind of chilled about it, just knowing in the past that you can overtake here."
FEELING GOOD
Zipping along in second place, Hamilton was feeling confident.
"The pace feels pretty good," he radioed.
EASY PASS
On lap 6 Hamilton easily passed Vettel for the lead.
"I was surprised he didn't defend more," Hamilton said afterwards.
LACKING PACE
"I think at the start it was looking good," Vettel said. "Obviously we got past Lewis but then fairly quickly we had to suddenly realize that we couldn't keep up with his pace up today."
ENGINE'S GONE
After qualifying his Red Bull fourth, Daniel Ricciardo planned to pass Valtteri Bottas who started third in his Mercedes, and then try to mix it up with Vettel and Hamilton. But he failed to get ahead of Bottas, got passed by Ferrari driver Kimi Raikkonen, and then his engine went into safe mode because of an oil leak.
"Engine's gone," Ricciardo radioed.
TWO FOR ONE
Hamilton's car was better on the tires than Vettel's. Hamilton had to pit only once - at the end of lap 19 - to switch from the ultra soft Pirelli slicks to the super soft tires. Vettel stopped after 16 laps to go from the ultras to the supers, and then came in at the end of lap 38 for another set of super softs.
"I felt the tires on the first stint were quite bad so I wasn't sure on the second," Vettel said. "We talked about it by radio and decided then obviously to do something different, which at the time, was difficult to predict what was going to happen. But if you look in terms of where we were three or four laps to the end, it's probably the right choice."
FUN TIME
Hamilton would briefly lose the lead again for three laps during the first pit stops, but this was his race to win and enjoy.
"The race was great," he said. "I have to say probably one of the most fun races that I've had for a while. I mean there's been quite a few fun ones this year."
THE GIFT
"Seb is in the car behind."
That was the radio message that Raikkonen, who was in second place, got on lap 51. The message, repeated twice, was clear: move aside and let Vettel, who was in third, take over second which is worth an extra three points.
FACTORED
Bottas spent much of the race in third place, but he dropped back to fifth in the final laps. He never, therefore, played a factor for the lead of the race. But he did play a factor in that he did not take any points off of the Ferrari drivers.
"In the high-speed corners the car was feeling very good today, very stable, in both stints the balance was very good in those corners," he said. "In the slow speed I really struggled, especially in the second stint with the rear end, the same issues I've been struggling before, a bit of overheating issues, so the set-up is still not as I want it."
WHO'S ON THIRD?
Max Verstappen drove a fabulous race. He started 16th because of engine change penalties, and then carved his way fourth. On the last lap he passed Raikkonen to grab third. But while he was preparing to go out on the podium, Verstappen was informed that the stewards had given him a 5 second penalty for cutting off the track to gain a position. Verstappen walked off and Raikkonen walked back into third.
"I have no idea what happened to him," Raikkonen said.
"I am feeling good after the race," Verstappen said, "but of course it is never nice to be about to step out onto the podium and then have it taken away. They should at least let us talk it through in the stewards' room first and voice our opinions."
FOUR-PEAT
Mercedes earned just two more points in the race than Ferrari did, but that was enough for Mercedes to wrap up its fourth constructors' world championship.
ROUTE 66
Hamilton now has a 66 point lead over Vettel and is in route to his fourth championship. There is a maximum of 75 points available in the last three races of the season. Vettel will have to grab almost all of them while Hamilton adds almost none of them to his own total in order to wrest the crown away.
"I don't really let my mind get there," Hamilton said of his own four-peat. "At the moment, I'm just focused on winning, clearly, and I'm enjoying driving more than ever."