United States GP 2017
OCTOBER 21, 2017
Practice 3 Report - A closer battle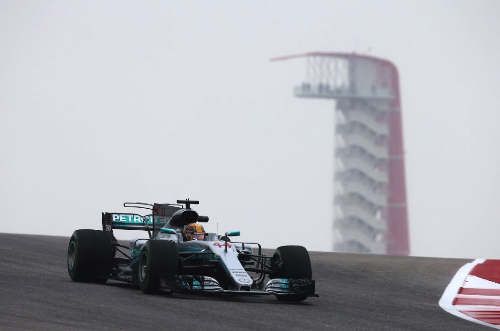 © RV Press
By Dan Knutson in Austin
Lewis Hamilton turned the fastest lap in Free Practice 3 for the United States Grand Prix on Saturday, just as he had done in FP1 and FP2 on Friday. But FP3 turned into a much closer battle between Hamilton and Sebastian Vettel. The latter was just 0.092 of a second slower than Hamilton compared to a full half second the day before.
The lineup for the weekend was: Mercedes - Lewis Hamilton and Valtteri Bottas; Red Bull TAG Heuer - Daniel Ricciardo and Max Verstappen; Ferrari - Sebastian Vettel and Kimi Raikkonen; Force India Mercedes - Sergio Perez and Esteban Ocon; Williams Mercedes - Felipe Massa and Lance Stroll; McLaren Honda - Fernando Alonso and Stoffel Vandoorne; Renault - Nico Hulkenberg and Carlos Sainz; Toro Rosso Renault - Daniil Kvyat and Brendon Hartley; Haas Ferrari - Romain Grosjean and Kevin Magnussen; Sauber Ferrari - Marcus Ericsson and Pascal Wehrlein.
Hamilton was fastest in both sessions Friday, with his best lap a 1:34.668 on Pirelli's super soft slicks.
"It's been a good Friday," he said after FP2, "but tomorrow can be a completely different day -- we will have to wait and see. Ferrari haven't really showed much today so we will wait and see what they've got. Red Bulls are quite quick. We are just focusing on our job."
Verstappen, whose job will now keep him at Red Bull through 2020, was the first to go to work on the track for FP3.
The ambient temperature at the start of the 60-minute session was 81 degrees Fahrenheit (27 degrees Centigrade) and the track temperature was 91 degrees Fahrenheit (33 degrees Centigrade).
The Pirelli tire choices for the weekend were: soft, super soft and ultra soft.
Just before the 15 minute mark some of the top drivers began doing their runs on the ultra soft tires. Vettel clocked a 1:36.603 just before Ricciardo did a 1:36.534 and Raikkonen a 1:35.562.
Hamilton's 1:35.717 put him third behind Raikkonen and Bottas (1:35.637).
So the order was now Raikkonen, Bottas, Hamilton, Ricciardo, Vettel and Sainz. But not for long as Vettel turned a 1:35.637 that moved him up to third. Verstappen had yet to clock a time.
Hamilton's next run of 1:35.125 put him out in front ahead of Vettel who had improved as well but was still 0.418 of a second adrift.
Halfway through the session Grosjean spun and beached his Haas in the gravel traps at Turn 7. The VSC was deployed so the crews could remove the car.
The order was now: Hamilton, Vettel, Bottas, Raikkonen, Ricciardo, Alonso, Ocon and Sainz. Verstappen had an off as well but made it back to the pits to have another go.
Just 22 minutes remained when the VSC ended and the drivers could get back up to speed. Verstappen finally had a good run on the ultras and moved up to second with a 1:35.217.
But others were doing more runs on fresh ultras, and Hamilton was back on top with a lap record 1:34.478, just ahead of Vettel's 1:34.570 and Bottas' 1:34.692 and Raikkonen's 1:34.755.
The order at the end of the session was Hamilton, Vettel, Bottas, Raikkonen, Verstappen, Massa, Hulkenberg, Sainz, Ricciardo and Perez.
FP3 had been a close battle between Mercedes and Ferrari. Would the fight continue into qualifying?