United States GP 2017
OCTOBER 20, 2017
Practice 2 Report - Once again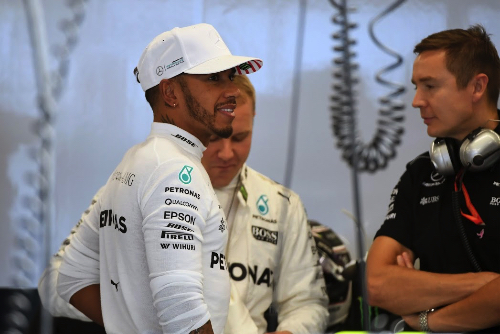 © RV Press
By Dan Knutson in Austin
As in Free Practice 1, Lewis Hamilton was once again quickest in Free Practice 2 for the United States Grand Prix. And once again his championship rival Sebastian Vettel was half a second slower. But whereas Vettel was second in FP1, he ended up third in FP2 as Max Verstappen sneaked in between the pair.
The lineup for the weekend was: Mercedes Lewis Hamilton and Valtteri Bottas; Red Bull TAG Heuer Daniel Ricciardo and Max Verstappen; Ferrari Sebastian Vettel and Kimi Raikkonen; Force India Mercedes Sergio Perez and Esteban Ocon; Williams Mercedes Felipe Massa and Lance Stroll; McLaren Honda Fernando Alonso and Stoffel Vandoorne; Renault Nico Hulkenberg and Carlos Sainz; Toro Rosso Renault Daniil Kvyat and Brendon Hartley; Haas Ferrari Romain Grosjean and Kevin Magnussen; Sauber Ferrari Marcus Ericsson and Pascal Wehrlein.
Hamilton was fastest in FP1 after setting a time of 1:36.355 on the Pirelli super soft slicks.
The ambient temperature at the start of the 90-minute session was 77 degrees Fahrenheit (25 degrees Centigrade) and the track temperature was 86 degrees Fahrenheit (30 degrees Centigrade).
The track was well dried since the drizzle in the morning, and the drivers were using Pirelli slicks super soft, soft and ultra soft compounds.
Raikkonen, on the super softs, set the pace with a 1:36.667. Ricciardo beat that with a 1:36.426. Followed by Verstappen with a 1:36.328 on the softs. Ricciardo responded with a 1:36.116 on the super softs.
Vettel had a highspeed spin/slide 18 minutes into the session at Turn 19.
Just before the 30-minute mark the top six were: Ricciardo, Verstappen, Hamilton, Raikkonen, Bottas and Perez.
Now several drivers tried the ultra soft (with pink sidewalls this weekend) including Bottas who got down to a 1:35.596. And Hamilton who slammed in a 1:34.668 while Bottas improved to 1:35.279.
Verstappen's ultra run put him second with a 1:35.065.
Midway through FP2, with the first ultra runs over, the order was Hamilton, Verstappen, Vettel, Bottas, Ricciardo, Raikkonen, Alonso, Massa, Perez and Ocon.
And then it was into long run territory. So the top 10 remained unchanged with Hamilton once again fastest and Vettel half a second back.