United States GP 2016
OCTOBER 24, 2016
Race Report - Happy hunting ground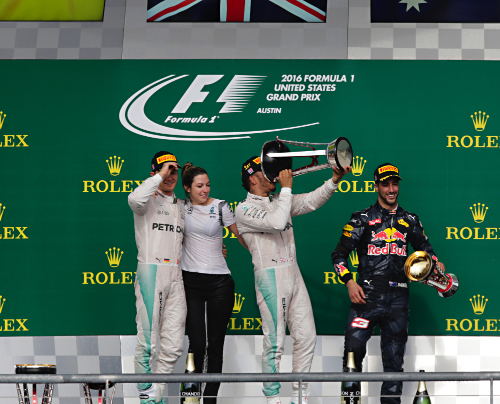 © Terry Griffin, Acitve Pictures
By Dan Knutson in Austin
When it comes to hunting down wins at the Formula 1 races at the Circuit of The Americas, Lewis Hamilton is the master. He won the 2016 edition of the United States Grand Prix at the track just outside Austin, Texas, making it his fourth win in the race's five-year history. He also scored his 50th Formula 1 victory and cut seven points off the lead his Mercedes teammate Nico Rosberg (who finished second) has in the drivers' world championship.
"This has always been a good hunting ground for me," Hamilton said. "I love being here in the States. It very much feels like home, and we've had some incredible support this weekend which I'm so thankful for."
Rosberg gunned for the win but ended up second.
"I lost out a bit at the start unfortunately and gave it everything to come back and second place is okay," he said. "It's damage limitation today of course. I wanted to win here in America, that would have been awesome but it wasn't to be. Next time maybe."
Red Bull driver Daniel Ricciardo joined them on the podium.
Pole sitter Hamilton, Rosberg, who had qualified second, and Max Verstappen, who lined up fourth in his Red Bull, had all managed to set their best lap times in Q2 using Pirelli's soft compound slicks, so they were able to start the 56-lap race on those tires.
Ricciardo, who put his Red Bull third on the grid, had Pirelli's super soft compound tires on his car. So, too, did the rest of the drivers in the top 10 qualifying spots: Kimi Raikkonen (Ferrari), Sebastian Vettel (Ferrari), Nico Hulkenberg (Force India), Valtteri Bottas (Williams), Felipe Massa (Williams) and Carlos Sainz (Toro Rosso).
Ricciardo used the extra grip to jump ahead of Rosberg to take second place. Verstappen slipped back to fifth behind Raikkonen.
"The start went nearly to plan," Ricciardo said. "The plan was to get both Mercedes, we at least got Nico, which was a positive."
Rosberg's view: "I had a good start and tried to overtake Lewis on the outside but ultimately it meant Daniel Ricciardo had a better line out of turn 1 and was able to capitalize on this."
Hamilton pulled away from Ricciardo and by lap 3 he was 1.2 seconds in front and out of DRS range.
The order in the early going was: Hamilton, Ricciardo, Rosberg, Raikkonen, Verstappen, Vettel, Massa, Sainz, Alonso, Button, Gutierrez and Grosjean.
Ricciardo and Raikkonen both pitted for the soft compound tires at the end of lap 8. Verstappen stopped just one lap later for the soft compound Pirellis.
Mercedes told Hamilton and Rosberg to "box" at the end of lap 9. Hamilton did not pit, however, but Rosberg did for a set of the mediums. Hamilton came in a lap later for the soft Pirellis.
So Vettel, who had yet to pit, led lap 12 while others such as Massa and Sainz made their stops. Hamilton was second in front of Ricciardo, Rosberg, Raikkonen and Verstappen.
Mercedes radioed to Rosberg that he was the only car in the leading group on the medium tires, so they were playing the "long game" that would come back to them.
Vettel finally came in at the end of lap 14, and the mechanics fitted the soft tires to his Ferrari. He rejoined in sixth place, and eventually finished fourth.
"The start was not so good and into turn 1 I was quite lucky, given that somebody was hitting me," Vettel said. "I think it was Nico Hulkenberg. Luckily nothing was broken so I could carry on. Then the pace was good, we were looking after the tires, so we could go longer than other people. The race was a bit different than we expected, we got a present from Max (Verstappen retiring) today but unfortunately also Kimi (Raikkonen in the Ferrari) had some problems and had to retire. It could have been a good performance for the team with both cars in the points."
Verstappen was on the move as he overtook Raikkonen and closed in on Rosberg who was in third place and chasing Ricciardo.
On lap 20 Hamilton had a 5.3 second lead over Ricciardo who was 1.1 seconds in front of Rosberg who was 1.5 seconds in front of Verstappen. Raikkonen, Vettel, Massa, Sainz, Alonso and Kvyat (who had yet to pit) rounded out the top 10.
"Max, just make sure you can finish the stint," Verstappen's engineer radioed. "I'm not here to finish fourth," Verstappen retorted.
Kvyat finally stopped at the end of lap 21, swapping his softs for mediums. Raikkonen pitted after 24 laps for the super softs, and Ricciardo came in a lap later for the medium Pirellis.
Verstappen came in at the end of lap 26, but the crew was not ready for him, so there was a delay before he got the medium Pirellis. He was stationary for 36 seconds. "I thought you boxed me, sorry," said Verstappen who was now seventh.
"The pit stop issue was my misunderstanding," Verstappen said. "The team had asked me to push the lap before so I thought I was going to be coming in. I pitted and then realized they hadn't actually made the call, luckily it didn't affect the end result."
At half distance the order was Hamilton, Rosberg, Vettel (all had yet to make a second stop), Ricciardo, Raikkonen and Verstappen, who had overtaken Massa. Ferrari told Vettel to pit the next lap. He got the medium tires.
Back on track, Verstappen slowed way down. I have an engine problem or something, he radioed. He parked his car at Turn 18. The gearbox had broken.
"I heard a banging noise coming from the engine so I pulled the clutch," he said. "They then asked me to release it again and keep going so they could try and work out what it was, unfortunately we couldn't solve it and it ended my race. At the end of the day the race pace was good and the setup felt strong."
That brought out the Virtual Safety Car (VSC), and Hamilton pitted for the medium tires as did Rosberg. Sainz and Alonso also pitted. It was a "free" stop for the Mercedes drivers who got fresh rubber without losing any positions.
"We looked like we were holding onto second quite well," Ricciardo said, "and then the Virtual Safety Car was deployed. It is what it is; it's a bit of a frustrating one sometimes. Nico was able to get the jump on me under that procedure. We would have had a good fight at the end so sorry about that but it was out of my control."
So now, as the VSC period ended, Ricciardo was third ahead of Raikkonen, Vettel, Sainz, Massa and Alonso. Raikkonen, on the super softs, closed in on the medium-shod Ricciardo.
But Raikkonen's challenge did not last long, and he pitted at the end of lap 38 for the soft compound Pirellis. As he exited the pits he was told to stop by the team. There was a problem on the right-rear wheel. He let the car roll back down the hill into pit lane.
"It's a pity because the performance of the car today was good," Raikkonen said. "When we changed for soft tires, for whatever reason I seemed to struggle. The balance was okay but I never really had the grip I was expecting. Once we went back to super softs the car was good again. When I left the pits after the third pit stop I slowed down a bit and asked if everything was okay because I saw some sparks coming out. At the end of the pit lane the team told me to stop. Now we have to understand what happened, the rear wheel nut had not fitted properly."
The Ferrari retirement promoted Haas driver Romain Grosjean to tenth place and into the points for only the second time since the Russian Grand Prix back on May 1st.
"It was a bit of a messy first lap," Grosjean said, "but I managed to get through everything. Then we went with an aggressive strategy trying to go for it. That worked out pretty well, so I'm happy with that. We were lucky that a few cars retired in front of us but, in the end, we needed to finish the race.
"It's great to score a point in front of our home crowd. I'm very pleased with that and for the guys, as well. It's been a long time since we scored. It's obviously a great thing to be able to score points at the end of the season."
With ten laps remaining, Hamilton led by 10.3 seconds over Rosberg who was 5.6 seconds in front of Ricciardo. Vettel ran a lonely fourth. Sainz was fifth and being chased by Massa, and Alonso was closing in on Massa.
On lap 51, Alonso pushed and bumped Massa wide and took over sixth place. "Felipe closed me on the door, I was already alongside him," Alonso yelled on the radio.
Vettel pitted at the end of lap 53 for the super soft tires. Poor Massa had a front left puncture.
Alonso attacked Sainz who defended well but eventually succumbed and gave up fifth place.
"It was good and interesting today," Alonso said after finishing fifth. "I enjoyed it, especially the final part of the race. Carlos Sainz was on a different strategy and different tires to me and Felipe, which allowed us to close the gap. Our tires were in better condition than the Toro Rosso's and we took advantage of that.
"The last couple of laps were very intense, as we had some extra speed so we tried hard to overtake. It was quite easy to overtake the Toro Rosso as they're slow on the straights, so you just need to open the DRS. I was following Carlos for 45 laps and he drove very well, very consistently, zero mistakes - so we had a great battle."
Sainz, who finished sixth, also enjoyed the fight.
"We knew it was going to be very difficult to get to the end on the soft tire," Sainz said, "but we committed to that and went to the end on that set - during the last two laps I had no tire left and just had to hold on to it as best I could! The battle with Fernando was so much fun! I knew that he would end up getting past me but I said to myself, 'let's make it a bit complicated for him!'
"I perfectly know how he attacks and how to defend against him, as I've been watching him race for the past 12 years. And I think that to be able to keep him behind for all those laps until he just opened the DRS and said 'ciao, ciao' was pretty decent!"
Massa, who ended up seventh, was incensed that Alonso was not penalized for pushing him off the track.
"Fernando dived into the corner I was taking, hit my car and I got a puncture because of it," Massa said. "It destroyed every opportunity I had to finish the race in sixth, and potentially fifth."
While all of this was going on, Rosberg was cutting down the gap to Hamilton who was taking it easy to the finish and his 50th win. Rosberg certainly wasn't backing off.
"No definitely not," he said. "I was going for it, flat-out all the way to the end."
Hamilton the hunter may have 50 wins, but he is still 26 points behind Rosberg with three races remaining.
"All I can do is do my best and continue to drive as I have this weekend," said Hamilton. "Nico has been driving fantastically well all year so the battle will continue but I know that we have all the support (from the fans) that will continue as well. I'll be going for it."