United States GP 2016
OCTOBER 22, 2016
Practice 3 Report - Inconclusive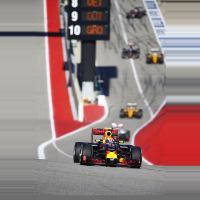 By Dan Knutson in Austin
That the Red Bulls were quick was not in doubt. But just how fast they were in relation to Mercedes was not shown in Free Practice 3 that ended on an inconclusive note with neither Lewis Hamilton nor Nico Rosberg showing their hand. That left Red Bull teammates Max Verstappen and Daniel Ricciardo first and second at the end of the session.
The ambient temperature at the start of the 60-minute session was 63 degrees Fahrenheit (17 degrees Centigrade) and the track temperature was 70 degrees Fahrenheit (21 degrees Centigrade.)
The line-up for the weekend was: Mercedes Lewis Hamilton and Nico Rosberg. Ferrari Sebastian Vettel and Kimi Raikkonen. Williams Mercedes Felipe Massa and Valtteri Bottas. Red Bull TAG Heuer Daniel Ricciardo and Max Verstappen. Force India Mercedes Nico Hulkenberg and Sergio Perez. Renault Kevin Magnussen and Jolyon Palmer. Toro Rosso Ferrari Daniil Kvyat and Carlos Sainz. Sauber Ferrari Marcus Ericsson and Felipe Nasr. McLaren Honda Fernando Alonso and Jenson Button. Manor Mercedes Pascal Wehrlein and Esteban Ocon. Haas Ferrari Romain Grosjean and Esteban Gutierrez.
Rosberg had been quickest on Friday, posting a 1:37.358 on Pirelli's super soft compound slicks. Ricciardo and Red Bull had been quick as well second with a 1:37.552.
Vettel and Gutierrez got things rolling in FP3, but most drivers didn't do much except an installation lap. The Red Bull drivers recorded lap times, with Verstappen going fastest and setting a 1:39.056 on the medium compound tires. Ocon was the only other driver to post a time in the first dozen minutes.
Things slowly started to ramp up out on the track, and Raikkonen used the super soft tires to clock a 1:38.512.
Then everything came to a halt as the session was red flagged after Wehrlein spun the Manor off into the gravel trap at Turn 19. The session clock kept ticking, however, so the drivers lost 10 minutes of track time during the red flag period. That ended any thoughts of hanging around the garages as the drivers had done previously and a number of them rushed out.
Raikkonen improved on his time and posted a 1:38.338, only to have teammate Vettel beat that with a 1:38.178. Both had run with the super soft Pirellis. Then Rosberg, on the soft tires, turned a 1:37.784, but Ricciardo, on the super softs, then set a 1:37.032. Hamilton, on softs, took over second with a 1:37.483.
So now, with just under 25 minutes remaining, the order was: Ricciardo, Hamilton, Rosberg, Vettel, Raikkonen, Bottas, Massa and Verstappen. It was going to change, however, as most of the drivers were in the pits with 15 minutes to go as they prepared for their qualifying simulation runs on the super soft tires.
Verstappen was the first to have a go, and he did a time of 1:36.766. He headed for the pits as began his lap and clocked a 1:37.284.
With just under four minute remaining, Rosberg began his super soft lap that resulted in him aborting the run and pitting. He was quick in the first two sectors but encountered traffic in the third sector.
When the mixed-up running came to a close, the top 10 were: Verstappen, Ricciardo, Raikkonen, Hamilton, Rosberg, Vettel, Hulkenberg, Bottas, Button and Alonso.