United States GP 2015
OCTOBER 25, 2015
Sunday Team Quotes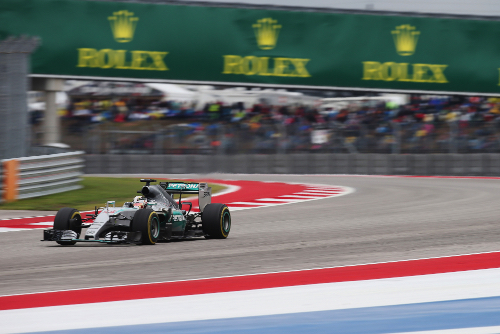 © Active Pictures
Mercedes GP
Lewis Hamilton (1st): "It's an overwhelming moment. Remembering my first British Championship, when my dad and me drove home singing 'We Are the Champions'. Thinking about how much my family sacrificed - my Mum, my Dad, my whole family. And also thinking about my fans. They give me so much energy and I hope I inspire them to never give up on their hopes and dreams. The race today was really amazing and anything could have happened. The last 10 - 15 laps were extraordinary - it was just a crazy, crazy race. I was in the lead, then I was fourth and the conditions were really tricky. Nico was driving really well, too. All the way through, I was thinking; "The Championship is there somewhere... how can I get it?" It was so close I could smell it and there was never a moment I didn't believe I could do it. It's just incredible to equal Ayrton, too. My target was always three titles as he was the one who inspired me. There is no one I want to equal now - I just want to carry on as far and long as I can. For any driver, you want to win in anything you compete in - but this is the ultimate goal. Championships mean greatness - yours and your team's! This Team has been so amazing. I feel incredibly thankful. I thought I would win with this team, so that's why I moved... and I did!"
Nico Rosberg (2nd): "Congratulations first of all to Lewis. He drove a strong season and deserves to win the title. In terms of today, this was a frustrating race for me. To lose the lead with wheelspin hurts very much. It's even more tough because I was very happy to have recovered from the Turn 1 incident with Lewis. He didn't leave enough space and drove into me, which was one step too far because I was leading in the middle of the corner. But this is something we can discuss together as a team at another time. I need to recover now from this tough day but I'm sure I will."
Paddy Lowe: "What a day! Massive congratulations first and foremost to Lewis. A third World Championship is a great credit to all the hard work he has put in not only this season but over a fantastic Formula One career to date. It is very much deserved and I think he can rightly stake his claim as a legend of the sport. At the same time, all credit to Nico today. He's had a tough season in terms of luck but has kept pushing throughout. He drove superbly today and, bar one small mistake which handed Lewis the lead, would surely have won the race. It's been an emotional day - not just for Lewis and the team but also for the sport. We saw a truly incredible race - one of the most exciting for many years - which atoned for what had been a pretty grim weekend. The fans here in Austin have been fantastic despite the conditions and very much deserved the entertainment we saw today as a reward for their dedication. "
Toto Wolff, Mercedes Motorsport Director: "First of all, a huge congratulations to Lewis. He has driven like a Champion all season and now rightly takes his place in a special group with a third title. I have no doubt there is more to come from him, so if we can keep delivering a car that is capable of doing the job then anything is possible for him. For Nico is has been an unlucky year in many ways. But he has shown his fighting spirit once again today and that will not change in the seasons to come. Looking back at today, we saw a fantastic race from start to finish and I hope that everybody watching was as entertained as we were - particularly the people in the grandstands who braved the weather this weekend. On the pit wall it was a very difficult race to manage, with so many decisions to make and so many marginal calls with the safety cars. We tried to play it fair and square as we always have done and perhaps not every call was the right one. But in the end Lewis had the World Champion's luck on his side and when you drive the way he has done this season you earn that luck. The first corner was certainly a tense moment and Nico was clearly not happy. It's never going to happen that a driver is completely happy to see a rival winning. But we have three races left and it's crucial that we don't allow today's incident to have further consequences. We will go away, have a few days of cooling off, and then talk. Looking ahead, we have three races still to go. I have never been in that situation where everything is comfortable and I can sit back and enjoy the race as a fan, so I'm looking forward to seeing our two drivers fight flat out with nothing to lose."
Red Bull-Renault
Daniel Ricciardo (10th): "The beginning was really fun between both Mercs and both Red Bulls. It was a good four-way battle. To see the Mercs not getting away from us was awesome. I was enjoying that. In the lead we were quite quick for a few laps and it felt like old times. That obviously didn't last long and once we put the slicks on we just didn't have the pace. We struggled with the warm up with the tyres and also struggled a lot with braking today. It was so tricky in the dry and then obviously there were the collisions with Hulkenberg and Carlos. It went downhill from then on. Even though we were on slicks it was never really dry out there. The kerbs were slippery and there was still a bit of a puddle through Turns 9 and 10, so it was definitely tricky. Dany spun off just in front of me on to the astroturf and into the wall. It was a crazy race and I hope the fans enjoyed it as it was quite action packed. Lewis definitely deserves the title. This year he was clearly on top of the rest so congrats and hats off to him for being the 2015 champion."
Daniil Kvyat (DNF, Accident): "The opening laps were mega, it was very enjoyable and it was nice fighting, but then the track dried out. If it was a wet race I felt it could have been a victory today. It's easy to say that, but there's no point really, because once it dried out we were an easy target for everyone, which was a bit frustrating. We weren't able to be as competitive in the dry as in the wet so we'll have to have a look at that. In the dry, I was driving a bit over my limit when I crashed, I put the wheels on the artificial grass, tried to carry a bit more speed but it didn't work out and I'm disappointed with myself. Finally, congratulations and well done to Lewis on winning the Drivers' championship, he's done a really good job this year."
Christian Horner, Sporting Director: "During the first half of the race the performance of our cars looked really encouraging. We were very competitive on the intermediate tyres, which allowed Ricciardo to take the lead and build on it, before we made a double stop, bringing both cars in together. The mechanics worked very well to turn them round with Kvyat in third place. So we looked in good shape at that point, but unfortunately, our pace on the dry tyres was simply not as competitive as the Mercedes and the Ferrari. In particular, we struggled to get the tyres up to temperature at the re-starts, especially after the second Safety Car period. After that, our race unravelled with Daniil's accident, which caused the final Safety Car. Daniel was involved in a collision with Sainz and that meant he needed a further pit stop, after which he fought back to grab the last available point on the last lap. A disappointing finish after a strong start. Finally, congratulations to Lewis Hamilton on defending his World Championship title, the first British driver to do that. He's a deserving champion."
Matthieu Dubois, Renault: "It was a hard work for a single point in the end and far from what we expected after qualifying with both cars on the second row. However, there are some positives to take out of this very wet weekend: firstly all four Renault-powered cars raced reliably from an engine point of view, and we congratulate our sister team for their fourth-placed finish. Secondly we managed to put on a good show and gave Mercedes a run for their money during the early stages of the race. Lastly there is no reason why the performance shown during the first half of the race cannot be repeated to achieve much better next week in Mexico."
Williams-Mercedes
Felipe Massa (DNF, Suspension): "It was a disappointing race. The first corner was very difficult with many things happening. I was involved in an accident which damaged the right side of my car. I carried on and was catching the cars in front but we had a problem with the damper, on both cars actually, so we had to stop. It's not a nice weekend for all of us, so we need to concentrate on the next one."
Valtteri Bottas (DNF, Suspension): "It's just not my day. I think that really sums it up. Two technical failures in the same day and it was the suspension failure that ended my race. The race didn't start that well, there was damage to my front wing after lap one so I had to pit for that. We had to make a call to go to intermediates or risk the slicks. We tried the slicks, which was guided by me, I thought it could be possible. But it was the wrong call and we lost a lot of time there. In the end none of that matters because of the technical failure so there was no possibility for a result today, unfortunately."
Rob Smedley, Head of Performance Engineering: "A truly disappointing weekend for us to finish with no points. Valtteri was very quickly into retirement from a rear suspension failure. Felipe had good pace on the intermediate, we stopped him to fit the dry tyre and things were looking positive until he retired with the same problem. It's bitterly disappointing, but there are three races to go and we have to bounce back to extend that gap to Red Bull. Mexico is a new circuit for everybody, the team has to remain positive and do the absolute best that we can. And finally congratulations to Lewis Hamilton for his third world championship."
Ferrari
Sebastian Vettel (3rd): "We tried to spoil Lewis' party today! In the end maybe I should have taken more of a risk with Nico, but it was not possible. It is a shame, but let's not forget where we started this year. Today it was another great race, a great recovery and the car was fantastic. I think you can't ask for more if you start from P13. A good first lap helped a lot and after that we had the pace, especially changing to the dry tires in mixed conditions. We seemed to fly for a few laps, a couple of seconds quicker than everybody else. Maybe without the last safety car we could have won the race: but if 'ifs' and 'buts' were candy and nuts... It was a difficult race and we managed it very well. I can only say "grazie tante" to everybody on track and in the factory. So on one hand we are happy, but it is not a nice feeling when you are out of the fight. For the next year this gives us a boost, trying to do make progress. Hopefully we will give them a bigger challenge."
Kimi Raikkonen (DNF, Brakes): "The first part of the race was more or less ok: the car felt pretty good all the time, I had the speed and I was able to fight with other cars. After the tires change I made a mistake, I pushed a bit too much, the rear end got loose, so I went off and hit the wall. The front of the car got stuck on the advertising board, I kept turning the wheels for a while, then I managed to get off and go back on the track. I had a slow puncture on my rear left tire, and I also damaged the right front end: we changed the front wing and the car was ok, but the brake duct had failed and the brakes got overheated, so I had to retire. It's not very nice when you have a race ending like this: we have the right tools but we have to put things together, make no mistakes and achieve a proper result. Congratulations to Lewis and the whole team, he did the best job out of everybody and deserves to be the champion."
Maurizio Arrivabene, Team Principal: "Today we have seen how strong the team has been all weekend, being capable of reacting so well, notwithstanding the postponing of the qualifying session and knowing that we would have to take a penalty anyway. Seb did another fantastic race, taking a podium finish after starting from P13 on the grid. This result helped us secure second place in the Constructors' championship! We had a very good strategy today, gambling on the Prime tires to go all the way to the end when the Safety Car came out on lap 27; then we had another caution period and we fitted the Options. Before that second Safety Car period, we had hoped for an even better result, but the Safety Car is part of the game. As for Kimi, I appreciated to see him fight to make it back to the track after hitting the barrier: this fully shows our team spirit. Now the championship goes on, and we need to stay focused with humility and determination, trying to consolidate our position in the Drivers' Championship. Congratulations to Lewis for winning the title."
McLaren-Honda
Jenson Button (7th): "This was a strategic race today - and, strategy-wise, we did a perfect race. The team should be very happy with what we achieved; we made all the right calls, but still we need to go away and look at our lack of performance. In the opening laps, I really enjoyed racing in the drying conditions, and I felt like I was able to make a bit of a difference. We got onto slicks before the others, and made the right calls, but, once it was dry and everybody knew where to brake, it became a lot more difficult for us. We just couldn't match the others' pace once they all found their feet. Nevertheless, it's great to get some points - and I enjoyed the challenge. We just didn't have the pace. Finally, congratulations to my old friend and team-mate Lewis. He and his team haven't put a foot wrong all year - this is a fantastic achievement for him."
Fernando Alonso (11th): "This was one of the best races of my career. To be running one minute behind the penultimate car on lap two, and then be running as high as fifth position with 10 laps remaining was quite a feat. After such a strong recovery, it was a shame that a mechanical issue in the closing laps put us out of the fight. That meant my feelings after the race were more sad than happy - but we can go away and continue to try to improve these issues. Finally, congratulations to Lewis [Hamilton] on winning his third world championship. He's been very strong all season, and that's a great achievement. Hopefully next year we can give him a little bit of a tougher time than we have this season!"
Eric Boullier, Racing Director: "We at McLaren are not in the habit of celebrating minor places - but Jenson's run to sixth today is one of our best results of the season so far and on that basis we can be happy if not satisfied, if you see what I mean. As ever in topsy-turvy races such as today's, Jenson mastered the conditions adroitly, staying out of trouble despite the treacherous conditions and moving calmly through the field, conserving his tyres where necessary, and bagging us a very valuable eight world championship points as a result. Through no fault of his own, Fernando had a rather more eventful race, but, even so, he drove superbly and failed by only a very narrow margin to score points himself. Our mechanics never put a foot wrong all weekend, and, despite the complexities caused by the changeable weather, our engineers and strategists also did an excellent job all afternoon. Well done, guys. As we've been saying throughout the year, we know we've got a lot of work still to do, but it's clear that we're making progress, together with Honda, and that's encouraging for us all. We'll be on track again in just five days' time, in Mexico City, so let's hope we can build on today's result when we get there. Finally, I want to take this opportunity to say 'well done' to Lewis, who still has many friends at Woking who remember his six seasons as a McLaren driver very fondly. Winning three world championships is a mighty impressive achievement - and, in annexing title number three today, he's become only the sixth driver to have scored a world championship hat-trick, joining Jack Brabham, Jackie Stewart, Niki Lauda, Nelson Piquet and of course Ayrton Senna, who won all his world championships for McLaren. Bravo, Lewis!"
Yasuhisa Arai, Honda: "We didn't have much luck with the weather this weekend, which severely limited our running time, but I think the results we gained today were the outcome of good teamwork to set up the power unit and chassis in such a short time. It was a great collaborative effort of the two drivers, pit-work and race strategies. Fernando's car had been fairly competitive through most of the race, thanks to a combination of his skills and the new Spec 4 engine, which performed to our expectations throughout the weekend. However, we think he temporarily lost power due to a possible injector issue - which was rectified before the end of the race. We'll need to investigate further to confirm the situation. Needless to say, we are very disappointed that he lost precious points positions because of this issue. We now head straight to Mexico, where we will focus and use the next few days to prepare the engines and analyse data to be ready."
Force India-Mercedes
Sergio Perez (5th): "We are happy to come away with fifth place and ten points from a weekend with such difficult weather conditions. The track was very damp to begin with and I was lacking pace on the intermediates - sliding around with a lot of degradation. Then, when we switched to the softs and eventually the mediums, it was not easy to get the temperature in the tyres and I struggled for grip with each restart. There was so much happening in the race and you really had to concentrate because it was very easy to make a mistake. In the final few laps I was getting close to Max [Verstappen] who was struggling on the soft tyres, but there was not enough time to catch him. Overall I'm very happy for the team because we've done a really good job this weekend. The recent results give us real momentum as we head to my home race in Mexico, where I'm determined to give my fans something more to celebrate."
Nico Hulkenberg (DNF, Accident): "It's a huge frustration to be out of the race when things were looking so promising. Until the accident, it had been a very interesting race and it must have been a very entertaining for the fans as well. I struggled at first on the intermediate tyres, but as soon as I switched to slicks I started making good progress. We were looking really good and I wanted to get past Daniel (Ricciardo) as I was faster than him and he was holding me up, so I tried to make a move. Unfortunately that didn't work and it was the end of my race. When I got back to the garage the team told me that there was an issue with the front wing - from contact earlier in the race - and it broke just when I was trying to make the move on Daniel. It's a shame as we could have scored a lot of points today. These last two races haven't been the best for me, but that's how racing goes sometimes. At least I can get back in the car in just a few days and get the disappointment out of the system, rather than having to wait for a long time. I look forward to the race in Mexico and it should be a really exciting week in a cool country that is always very welcoming to us."
Dr. Vijay Mallya, Team Principal: "Formula One delivered a fantastic spectacle today, which is just what the fans deserved after suffering through such rainy weather for most of the weekend. The racing was sensational and both Force Indias were up at the front and looking very competitive. Sergio delivered another very mature performance - staying out of trouble and letting the race come to him. Those ten points help to strengthen our hold on fifth place in the standings with just three races to go. Nico was unlucky to retire after the contact with Daniel [Ricciardo] and it's certainly a missed opportunity because he was showing excellent pace. We will make sure he's ready to bounce back next week in Mexico, which is going to be a hugely important and busy week for everyone in the team."
Toro Rosso-Renault
Max Verstappen (4th): "I really enjoyed today's race! A fourth position is a great result, definitely the best we could do today, and I'm just really, really happy! There were some very good battles out on track and I'd say this was the most complete ace of the season so far, everything worked out as it should have: I made no mistakes and the team did a perfect job with the strategy, making all the right calls. It was difficult to know when to make the move on to slick tyres, because you never want to go too early and lose time, so you just try and wait and see if someone else does it... When I heard over the radio that another car was on slicks and not doing too bad, I said okay, now we go. Once on the Softs, I didn't risk much as I knew I had to look after the tyres and we managed to get to the end in a strong way. I'm delighted with today and I'd like to thank the team for all the efforts this weekend."
Carlos Sainz (6th): "What a mad, amazing race! We were fast from start to finish and I'm really happy with today's result, my best so far this season. To start from P20 and to finish P6 is just unbelievable. Okay, P7 after adding the 5-second penalty for speeding in the pit-lane because of the pit-limiter not working is a bit of a shame, but I've still got a very big smile on my face! It was an action-packed race, with many safety cars, tricky pit-stops, plenty of overtakes... I really enjoyed it out there this afternoon! My race engineer even said over the radio that I was "on fire", which made me smile! I'd like to thank the team for getting the car ready in time for the race and I'm happy that I've been able to reward them with such a positive result after a troubled morning. Max also did a great job and it's great that the team got so many points today, we definitely deserved it!"
Franz Tost, Team Principal: "First of all I would like to congratulate Lewis Hamilton for his third World Championship title, which is really well deserved! As for our performance here this weekend, because of some technical issues in yesterday's free practice session and because of the rain this weekend, our drivers, who had little or no experience at this track, were not able to do many laps before the race. I must say that Max did an extraordinary job. Today's qualifying session was the first time that he could properly drive here and to get into Q3 shows his great skills. His race was also really good: after the start he was immediately fighting with the Ferrari's and other rivals and he was able to keep his position, crossing the line in fourth position, without making one single mistake during the 56-lap race. Carlos also did a fantastic job, recovering very quickly after his accident in qualifying this morning. He went from P20 to P11 in only one lap and he was able to keep this position and overtake a few more cars in front of him. Unfortunately he had a problem during one of his pit-stops with the rear-right wheel nut and then he got a five-second penalty for speeding in the pit-lane. We then called him in once more to put on the new Option tyres which gave him the chance to do plenty of overtakes at the end of the race... And ended in a very good sixth position, which then became a P7 after the penalty. I'd like to congratulate both drivers for the great job. We must not forget that this was their first ever race weekend here. I must also say that the engineers and the strategists worked really well, as the strategy worked out just as we expected it to, and once more the STR10 showed its potential. After this amazing result, I'm really looking forward to the next three races and I'd like to congratulate the whole team for all the effort put in this weekend - it definitely paid off! Finally, I'd like to say that today's race was a really interesting one from start to finish. It was great to see the Red Bulls fighting for the lead and actually running in P1 for some time, as well as Sebastian Vettel closing the gap. I think that these fights between different teams for the victory is what Formula 1 needs, it's something we all enjoy!"
Cedrik Staudohar, Renault: "What a great race after such an amazing weekend. This morning's session didn't go according to plan but we knew that anything was possible this afternoon. For the last couple of races we have seen that the reliability has been there and it was crucial today. Everything was under control with our power units through the race, and it's a great reward for everyone including the guys at the factory to score so many points. We can't wait to race again in one week time in Mexico."
Lotus-Renault
Pastor Maldonado (8th): "We are in the points once again which is the main positive thing for the team. It was quite a busy race with a lot of fighting around me, and even some fighting with the car as it didn't quite perform as expected. It was a little bit strange because we are normally quite strong in the races; better than in qualifying in fact. My crew were great all day with qualifying and the race. We hope to continue scoring strong points in the remaining races."
Romain Grosjean (DNF, Brakes): "I had a good start, but in the middle of the first corner I felt a hit from behind. This gave me a puncture and the damage meant that the floor and braking cooling ducts were damaged. We tried continuing but the brake temperatures were just too high and we had to retire for safety reasons. It's a shame because it would have been a good race as far as we know with the experience we have and the set-up we were on... Everything should have been quite nice but now we'll never know!"
Alan Permane, Chief Race Engineer: "It was an eventful race but we weren't able to capitalise on all the opportunities. Unfortunately we had to retire Romain very early as his rear floor and brake cooling was damaged in the contact at the first corner. We tried to keep racing but it wasn't safe to continue. Pastor scored useful points but we weren't able to fight higher unfortunately."
Federico Gastaldi, Deputy Team Principal: "Firstly congratulations to Lewis Hamilton, a deserving world champion who took his title in the best way possible. He and the entire Mercedes AMG F1 team have done a fantastic job this year. It was an unfortunate day for Romain as his race was ended so early through no fault of his own. Pastor secured a good top ten finish which adds to our points tally. After a tough build-up to the race Formula 1 put on a great spectacle at the Circuit of the Americas so we thank everyone in Austin for all their efforts. I'm sure we're all hoping for better weather next year!"
Marussia-Ferrari
Alexander Rossi (12th): "It's been a truly amazing week and to finish in 12th place today is incredibly exciting for me and the team. I'm so proud to race well here in front of my home crowd and to equal the team's best performance of the season in only my third Grand Prix. The race did get off to a tricky start, which was a shame. There was a Williams driver in the mix, who had picked up some damage, and avoiding him put Will and me on the same piece of racetrack. Unfortunately we hit and I'm sorry for Will that the resulting damage ended his race. As for the positives, I had a good battle with Nasr for quite a few laps and then with the rate of attrition we were seeing, I think everyone perhaps started to feel that we were getting in touch with a points-scoring position. In the end, it wasn't to be, but that doesn't detract from what has been a fantastic day for me and I'm now looking to carry that momentum forward to Mexico, where we race in just a week's time. I'd like to thank the Team and everyone who continues to support me in my career. I hope this is just the start of great things in Formula 1 for me."
Will Stevens (DNF, Damage): "I'm pretty devastated that I didn't get the chance to race today. I made a really strong start - as I have been doing in the past three or four races in particular - and I was able to get past Alex into the first corner. Then 'boom', my race was run when I got hit from behind and the damage was too severe to continue. It is what it is, but I was hoping for good things today when we finally had a dry track to work with. There's no point in dwelling on it and I'm already looking ahead to Mexico."
John Booth, Team Principal: "I'm thrilled for Alexander, the team and the American fans in equal measure, as this is a fantastic result after a challenging weekend. Today we saw Formula 1 racing at its absolute best. In the end this was easily the most exciting Grand Prix of the season and that's exactly what Circuit of The Americas race-goers needed. Obviously the race got off to a more difficult start and in the predicted mayhem of Turn 1 on the opening lap, our two drivers had a coming together. Sadly, Will sustained too much damage to continue, and he is naturally very disappointed. I think we would have seen another exciting battle between team-mates today as they both had the bit between their teeth. Nonetheless, we're happy to have at least one good finish and credit to Alexander for recovering well from that incident and a very determined performance. Finally, I'd like to congratulate Lewis Hamilton, an incredibly deserving winner of the Drivers' Championship and a good friend."
Sauber-Ferrari
Felipe Nasr (9th): "It's been an eventful race. At least we scored two points in our 400th Grand Prix. I had a difficult beginning with front wing damage and what was a too early tyre change to slicks. I had to pit again one lap later to change back to intermediate tyres. From that moment on my race started. At the end of the race I was able to take a few positions by managing my tyres better than my competitors, and so finished in the points."
Marcus Ericsson (DNF, Electrical): "I had a good start. In turn 1 there was a car in front of me spinning, but I am glad I managed to avoid driving into it. I had to go off the track, so I lost some positions. After that I got into the rhythm and was able to overtake a few cars. The pace we had on the intermediates on the drying track was more competitive compared to all the sessions throughout the weekend. On soft tyres I was struggling a bit to get them to work. Then I had to stop the car on track, which was unfortunately due to an electrical failure. It was a big disappointment, as I think it was possible to have scored some points today."
Monisha Kaltenborn, Team Principal: "We can absolutely not be satisfied with this weekend. It is not an excuse that one driver did not know the track before and we were not able to run many laps here. Almost everything that should not happen during a race happened. The result is fortunate, but we cannot count just on luck in the future."