United States GP 2015
OCTOBER 25, 2015
Qualifying Report - Splish Splash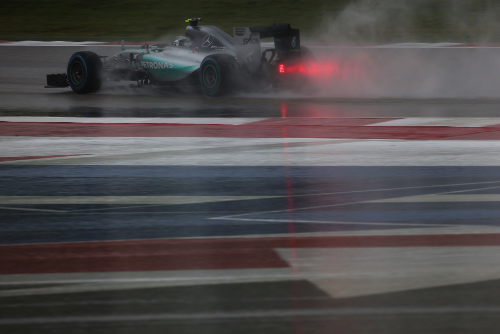 © Active Pictures
Splish splash, the drivers and spectators took a bath in qualifying. While Qualifying 1 and 2 took place, Q3 was canceled because of the rain. Mercedes teammates Nico Rosberg and Lewis Hamilton had been quickest in Q2 ahead of Red Bull teammates Daniel Ricciardo and Daniil Kvyat, and so they ended up being the top four on the grid for the race.
The ambient temperature at the start of the session was 59 degrees Fahrenheit (15 degrees Centigrade) and the track temperature was 60 degrees Fahrenheit (16 degrees Centigrade).
The line-up for the weekend was: Mercedes " Lewis Hamilton and Nico Rosberg. Red Bull Renault " Daniel Ricciardo and Daniil Kvyat. Williams Mercedes " Felipe Massa and Valtteri Bottas. Ferrari " Sebastian Vettel and Kimi Raikkonen. McLaren Honda " Fernando Alonso and Jenson Button. Force India Mercedes " Nico Hulkenberg and Sergio Perez. Toro Rosso Renault " Max Verstappen and Carlos Sainz. Lotus Mercedes " Romain Grosjean and Pastor Maldonado. Marussia Ferrari " Will Stevens and Alexander Rossi. Sauber " Marcus Ericsson and Felipe Nasr.
While FP3 had run as scheduled on Saturday morning, the afternoon qualifying session was washed out and postponed to Sunday morning.
"Obviously it is a shame for the people here," Vettel said of the fans on Saturday. "They have been waiting a long time in the wet, they came to see nothing in the end. Hopefully we can put in a good show for them tomorrow. The difficulty will be to manage the whole day, there will be a lot of things to do, a lot of meetings and so on, but Qualifying and race are possible to manage within one day, as we have seen a few years ago in Japan. There was very little we could do on a day like today."
QUALIFYING 1
It was still raining as Q1 began, but the green lights went on to start the 18-minute session on time. Mercedes told Hamilton to get a lap on the board as soon as possible. All 20 drivers were soon on the track.
There was plenty of spray and the visibility for the drivers was not very good if they were in traffic. "It is very dark," Raikkonen radioed.
4 minutes into the session, Hamilton clocked a 1:59.393.
5 minutes into the session, the red flags came out as Sainz crashed and ripped off his left front wheel.
The 11 drivers who had set times were; Hamilton, Ricciardo, Kvyat, Verstappen, Bottas, Button, Massa, Grosjean, Maldonado, Ericsson, Sainz and Rosberg.
FP1 was restarted after a 10 minute delay. Raikkonen and Hulkenberg were the first of a string of drivers to go back out on the wet track. Soon everybody but poor Sainz was on the track. Heavier rain was expected to fall in a couple of minutes.
With 8 minutes remaining in the session, Rosberg went second with a time of 1:59.875. Then Hamilton improved to a 1:58.025.
With 5 minutes remaining in the session, Vettel went off the track at Turn 10 and continued but had to pit because he had skimmed the barriers.
With 3 minutes remaining in the session, Rosberg turned a 1:57.469. Then Ricciardo did a 1:57.163.
Right at the end of the session Hamilton set a 1.56.871. But it was Ricciardo who ended up in first place with a 1:56.495.
The five drivers who did not make the cut to Q2 were: Ericsson, Nasr, Rossi, Stevens and Sainz.
The top 10 in Q1 were: Ricciardo, Rosberg, Hamilton, Kvyat, Raikkonen, Hulkenberg, Verstappen, Perez, Bottas and Alonso.
QUALIFYING 2
Mercedes told Rosberg that the rain was expected to continue and increase during the 15-minute session. All 15 drivers were soon out on the track. Rosberg set a 1:56.824.
A number of drivers had spins and "offs" including Hamilton, Raikkonen, Perez, Kvyat, Hulkenberg and Button.
With 3 minutes remaining in the session, nobody had beaten Rosberg's time, but Vettel had had another spin. Verstappen was 10th and Alonso 11th.
At the end of Q2, Alonso, Bottas, Grosjean, Button and Maldonado were out. The top 10 were: Rosberg, Hamilton, Ricciardo, Kvyat, Vettel, Perez, Hulkenberg, Raikkonen, Massa and Verstappen.
QUALIFYING 3
The session did not start on time because the weather was getting worse.
Stop, stop, stop, stop! Mercedes radioed to its drivers as they headed out of the garage.
Then, at 10:02 a.m. local time, the officials announced that Q3 would not take place.
The order of the grid, therefore, was set using the times from Q2 with Rosberg, Hamilton, Ricciardo, Kvyat, Vettel, Perez, Hulkenberg, Raikkonen, Massa and Verstappen being the top 10.