United States GP 2013
NOVEMBER 18, 2013
Race Report - Texas Eight Shooter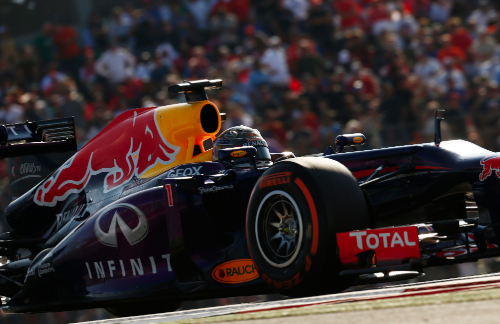 © Active Pictures
Sebastian Vettel shot to his eighth consecutive victory of the season with another dominating display in his Red Bull in the United States Grand Prix at the Circuit of The Americas in Texas. Romain Grosjean finished second in his Lotus, and Mark Webber joined them on the podium after taking third in his Red Bull.
"I didn't answer questions about records in the last couple of days but now I beat this record I'm very proud," Vettel said. "And when you look at the men that had similar results and performances in the past, it's impossible to really understand it. Maybe one day when people will look back at what we've achieved as a team they'll feel as I feel for those guys before.
"The car has been very reliable but it's the mindset of the team, never missing a step, giving everything we have that gives us this performance. We had another very strong weekend, but people forget each weekend is a challenge. To have such an incredible run is a great achievement."
Vettel started from the pole and led all 56 laps except for laps 28 and 29 which Grosjean led during the single round of pit stops for fresh tires.
"Racing is different now," Vettel said. "When I came into F1 it was a number of 20 laps sprints, but now because of the fuel weight you have to manage the tires better. You cannot push too crazy at the start, because you'll hurt your tires. You never push to the limit but you do what you can to achieve the best race time you can.
"Before the first stop I was struggling with the medium tires as I was catching traffic, so for once I was the first to come in. I went wide into Turn 12 once or twice, but there were no real concerns. When you have a good gap it's not always necessary to use all the curbs in every race.
Grosjean qualified third and snatched second place in Turn 1 as both he and Lewis Hamilton (Mercedes) got by Webber who had gridded third.
"It was a good race, a good start and I got past Mark and almost caught Seb," Grosjean said. "The car worked well today, I'm very proud to represent Lotus. Everyone did a 100 percent job, and I'm glad to be on the podium here in the United States. I like this country and I always look forward to this beautiful track. Maybe next year I will go one better."
"The strategy with Mark behind was clear, I had to get as big a gap as possible before the DRS zone, use all the KERS I could on the back straight. I knew he couldn't stay close in Turns 7, 8 and 9. Only once I out-braked myself into Turn 12 but apart from that it was not a problem."
Webber passed Hamilton but could not get by Grosjean.
"I think pole was very important yesterday and it probably cost me a better result today," Webber said. "I should have qualified better and it was difficult to be in a good position on Turn One from there. We all wanted to be on the outside.
"It was not easy to pass Romain who was very clean but a good job for the whole team and I'm happy to finish on the podium on what will be my last F1 race here in America. But see you next year with Porsche."
"I had a better pace than Romain on the harder tire, as usual, but I knew he was covering my every move. We knew we could attack on the second part of the race. I used different strategies with the KERS to try and pass him - on the back straight, on the front straight, but here it's very difficult to run close to people at Turns 8 and 9, so I was never close enough at the start of the big straight to try a move."
Hamilton ran third for the first 12 laps and then lost the spot to Webber. At the end of the race Hamilton fended off Fernando Alonso and crossed the line 0.8 of a second ahead of the Ferrari.
"It was so nice to have a race where I could fight for position and make progress," said Hamilton. "The car felt much better today than recently so the change in chassis has definitely made a difference and a big thanks to my guys in the garage for their efforts there. I had a great start today and that was crucial to my race.
"We had to give up third place to Mark fairly easily to make sure our tire management and strategy worked as it was more important for the team to finish ahead of Ferrari. There was no way I was letting Fernando past at the end; I was ready for him to make his move and had a couple of tenths ready to pull out if he did!"
Nico Hulkenberg had a strong race in his Sauber and claimed sixth place.
"If I'm not mistaken, since Monza that would have been the eighth points finish in a row if it wasn't for the brake disc failure in India and the drive through penalty in Abu Dhabi," Hulkenberg said. "That's a pretty impressive statistic. It was an interesting race. I didn't have to fight that much, only at the end with Fernando (Alonso), which was good fun.
"Unfortunately in the crucial part of the race, about ten to 15 laps before the end, we didn't quite have the pace of Fernando, so he was able to overtake me. During the last lap going into turn one I passed him, but then I just missed the apex and he was able to get me back at the exit. But we finished just a couple of seconds behind our competitors. I think it's been a good weekend with a gain of a good eight points."
Sergio Perez gave the Mexican fans something to cheer about as he crossed the line in seventh place in his McLaren.
"To be honest, I was expecting to achieve a little bit more than seventh today," he said. "On the opening lap, I managed to push past Fernando (Alonso), and the car initially felt pretty strong. After that, however, between about lap 10 and lap 15, the tire degradation started to kick in, and we struggled relative to the others around us. They seemed to be coping with the (tire) degradation a little bit better than we were.
"But, more importantly, I want to say a big 'thank you' to all my Mexican and American fans for the support they've shown me all weekend. They came here to watch me perform, and, while I would love with all my heart to have given them a better result than seventh, it was still amazing to have their support throughout what has been a difficult but very special weekend."
Valtteri Bottas earned his first F1 points with an eighth place in his Williams.
"The whole weekend has been good from setting up the car in practice through to the strategy and pitstops in the race," he said. "We managed the tires well today and I had good feedback from my engineers on them throughout. We did have a bit of pressure from (Nico) Rosberg at the end but I was able to keep pushing and hold the position. I want to say a big thanks to everyone in the team and at the factory as they have all been working so hard and really deserve this result."
Nico Rosberg wound up ninth in his Mercedes.
"I didn't have a great weekend here in Austin unfortunately," he lamented. "It really started yesterday in Qualifying where I struggled with getting temperature into the tires and starting from 12th place makes your race really difficult, especially in a one-stop race. I made some nice overtaking moves but we weren't able to do much with the strategy today because of the single stop so it's disappointing to only have finished ninth as our car was quicker than that today.
"Overall though, as a team we managed to increase the gap to Ferrari and that's a good result. After such a tough weekend, I'd love to be back in the car in Brazil tomorrow and not wait another seven days! We'll be pushing really hard there to end the season on a high."
Jenson Button (McLaren) rounded out the top 10 after passing Daniel Ricciardo (Toro Rosso) with just two laps to go.
"Even though I was only battling for a single world championship point, I still wanted to do the best job I could this afternoon," Button said. "As in all the past few races, I made contact with another car on the first lap and that contact broke my left-hand front-wing endplate. It wasn't quite as bad as in Abu Dhabi, but it still left me with quite a lot of understeer.
"We considered changing the nose-box at the pit-stop, but, instead, the mechanics added some extra front wing, and that helped to re-balance the car. It still wasn't ideal, because losing downforce at the front doesn't affect only the front-end, it affects air-flow across the whole car as well."
As for the winner, Vettel is enjoying this incredible run of success.
"I think, like Michael Schumacher, my approach is to get into the car to do the best possible job, not to beat records," Vettel said. "To beat one of his records is exceptional, but I also don't expect my records to last forever. I talked to him a couple of weeks ago, he's enjoying riding horses and racing karts with his kids - he's enjoying life and he's very proud of what he achieved in his career."